It's always great when you can find a fuck buddy. Calling up a regular friend when you're horny is infinitely easier than cruising online and wading through all the bullshit on profile sites. Zac Wilder and Etienne Kidd tell Video Boys that they met at a fetish event and became friends, but fuck buddies, too.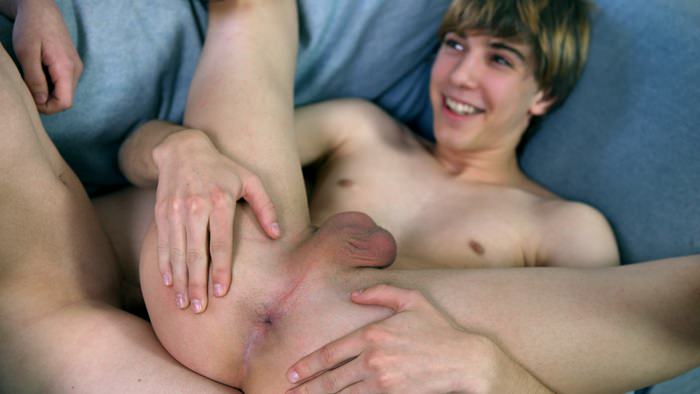 Zac is a horny twink who likes things a little rough – at that fetish event he was getting his balls slapped. He also likes being dominating and fucked roughly and Etienne loves dishing it out and finds dominating Zac comes quite naturally. A little hair pulling and some face slapping, it's all good – it's just two horny boys getting creative with their sexual times.
Zac says that he likes Etienne's "monster cock" and admits that he's had a lot bigger cocks up his ass, but Etienne is a small, slender guy and so his cock looks impressively large, and feels quite good, too. Watching Etienne strongly and forcefully thrusting his hard-on into Zac's tiny little butt is quite a turn-on. And Zac yelps in both pleasure and pain when Etienne's strokes go a little too deep and get too hard. But he's not asking his top buddy to stop. Etienne keeps fucking Zac pretty hard and slaps his face periodically, and this is all this bottom slut needs to shoot his load of jizz all over himself. Etienne empties his nuts on the boy, then rubs his juice all over his kinky bottom bud.