Kayden Gray and Zac West have been staying at a gay guesthouse for the weekend in this Eurocreme video, and there's been lots of sucking and fucking with the guests bouncing from room to room. Kayden even got cute Lyle Boyce bouncing on his 9-inch thick cock. But in this new scene, lovers Kayden and Zac have had a spat (something involving someone's ex-lover, you know how it goes) and a furious Zac storms out.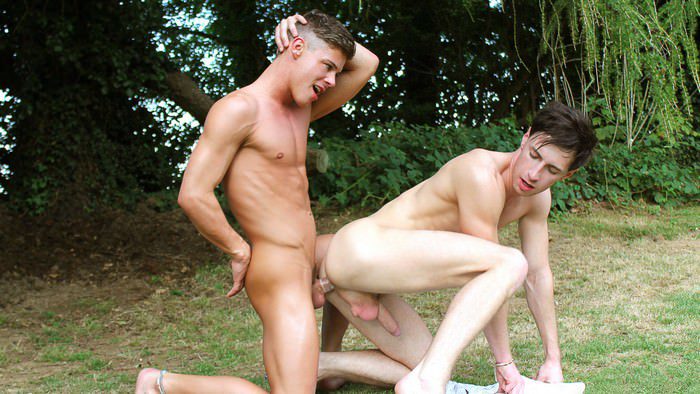 Kayden follows Zac out into the countryside. He's eager to reconcile and put all the drama behind them, but he really is most interested in having a good and proper wank out the warm afternoon sun. After a bit of a talk by a fence, Kayden squats and goes down on his boyfriend right there on the road. Kayden is mostly the top in this relationship, but it seems like he's pulling out all the stops to get back into his boyfriend's good graces again. And if he has to give his lover a sensual outdoor blowjob and spend the afternoon bottoming, he's going to go there. Gray very good at sucking dick, licking and deep throating, and taking breaks to run his tongue up Zac's taut abs. Zac looks down at his lover swallowing his cock and says, "I miss this."
These lovers lay a blanket down on the grass and get into some more passion, kissing, and oral before Kayden sits down on Zac's thick dick and rides him. Then Zac pushes his lover over on his side, crawls in behind him, and gives his ass a good drilling. And as these boyfriends lie naked in the sun, covered in each other's sticky cum loads, it looks like the spat is over and maybe they can enjoy another couple of romps with each other before they have to leave the inn. Will Kayden get Zac's ass one more time this weekend?