There's a reason that Catholic schools have such a bad rap, and at Helix Academy it's Father Glenn – the man's a fucking prick. Evan Parker and Daniel Bishop head into Father Glenn's classroom for some after-school studying and they thank him for letting them use the class. While Father Glenn packs up his desk, he gives them a lecture. "You can thank me, Mister, by not leaving this place a mess. And let me warn you to turn the lights off because if I come in here in the morning and find the lights on, there's going to be one serious shit storm." The boys give the Father a smile, but you know they're thinking, "Blow me."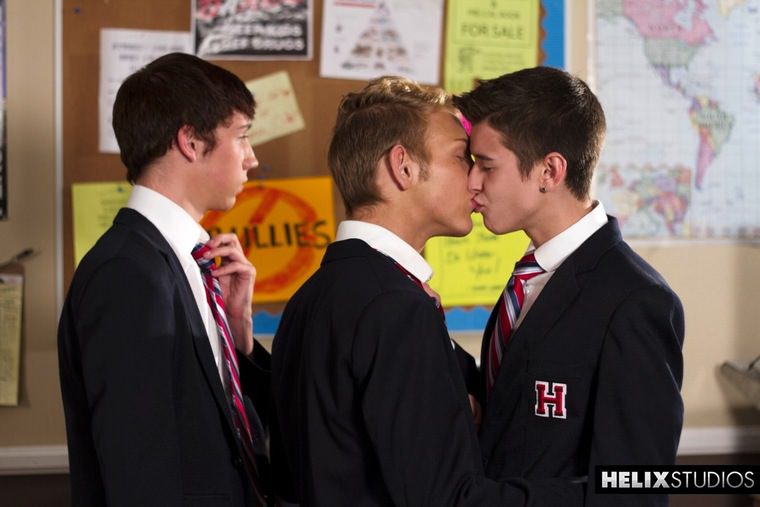 Father Glenn leaves and a few seconds later blond cutie Dylan Hall joins the study group. The boys sit staring at each other. "Do you think it's safe?" Dylan asks. Evan checks the hallway, then starts loosening his tie, "Yeah, we're good." Dylan and Evan start kissing and Daniel joins them, then those nicely pressed school uniforms start hitting the floor and these three boys get down to enjoying each other's dicks with their mouths.
Father Glenn told the boys not to leave the room a mess, but he didn't specifically say they couldn't fuck on the desks. Dylan bends over a bunch of desks and Evan warms up his ass with his stiff cock, meanwhile Dylan is sucking Daniel's stiffening prick and getting it ready for his ass. Then lying back with his legs in the air, Dylan gets his hole fucked by Daniel and Evan takes over throat-stuffing duty. And mindful of the priest's warning not to make a mess, Evan and Daniel blow their cum loads all over Dylan's mouth and he gobbles up their jizz and doesn't let a drop hit the floor. There, are you happy, Father Glenn?