The last time we saw Devon LeBron over at Staxus, he and his mega-hung buddy were shoving there monster dicks inside a boy scout's ass, and at the same time! In this new scene, young Connor Levi has that huge black dick all to himself.
This video is quite funny because it opens with Devon and Connor on a bed with a bowl of strawberries, a bottle of champagne, and glasses. Connor is babbling away about champagne and how you can tell if it's good or not. Devon, who is Dominican, doesn't understand a word of it. And he eventually shuts the British lad up by sucking his cock. Devon plays around with some strawberries and Connor's cock, and the blond boy is getting drunk.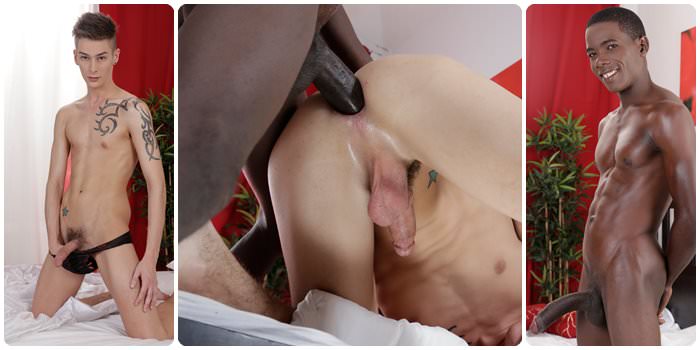 I don't know that I've ever seen any of the Staxus bottoms give Devon a decent blowjob. At 12 inches and monstrously thick, his cock is just too damned big. I've seen plenty of guys manage to swallow half of it, but that's about it. And even tipsy, Connor can't gulp down much more than a third. But his ass is a different story. He straddles Devon in reverse and the black stud stretches Connor's hole until he's able to plunge his humongous tool up inside fast and deep.
Connor takes it doggy style, then on his stomach with his ass arching in the air. And Devon's cumshot is the scene stealer: he drains his nuts onto Connor's well-fucked rosebud and fills up the lad's entire crevice with jizz, then Devon pushes his dong into the middle of the cum pool and Connor's hole over flows and the creamy white juice slides down his balls. Hot stuff!