Wesley Woods and Wil Braun both get their asses drilled deep by muscly stud Arad Winwin in this sizzling threesome scene!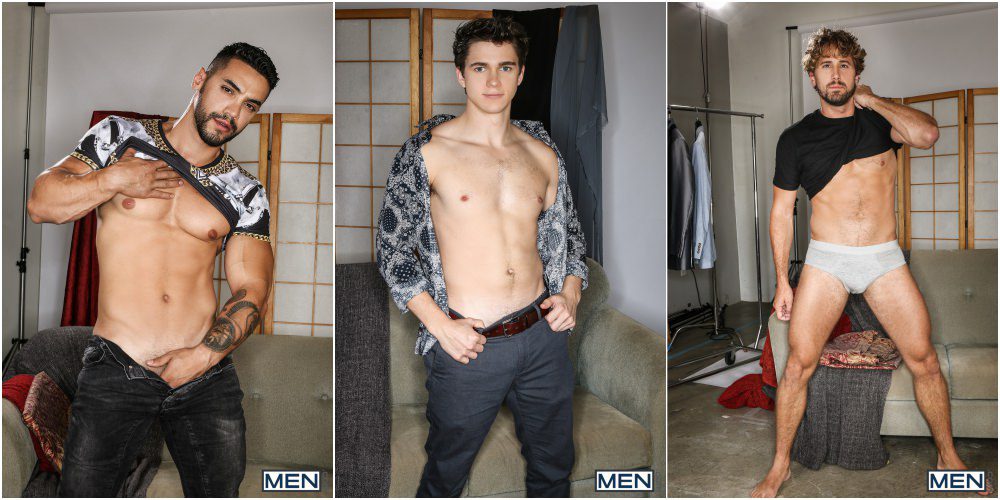 Narcissistic stud Arad wants some sexy clothes that show off his best attributes and is proving difficult to please, so assistants Will and Wesley form a plan they think will please him; An invisible suit! Arad loves the look, and so does his rock hard dick. With that big boner throbbing away, Wesley and Will can't help but wrap their lips around it and suck off the muscly hunk. They take turns blowing Arad's dick and also service it both at the same time, then whip out their own boners for some threeway oral action.
Now totally horned up, these three studs are ready for some anal fun. Will gets spit-roasted on the couch as he blows Wesley while getting fucked hard from behind by Arad. The muscly stud doesn't hold back on Will's as either, pounding it relentlessly until he decides to take a turn on Wesley's butt instead. Wesley then gets bent over backwards in a pile drive position as Arad drills him deep, and it's not long before he's left totally drenched in all three of their hot loads!
Watch the sizzling trailer below: