Following on from "The Weekend Away" parts 1&2, this brand new finale sees all the guys come together for some amazing group sex action to finish off their hot an horny weekend away!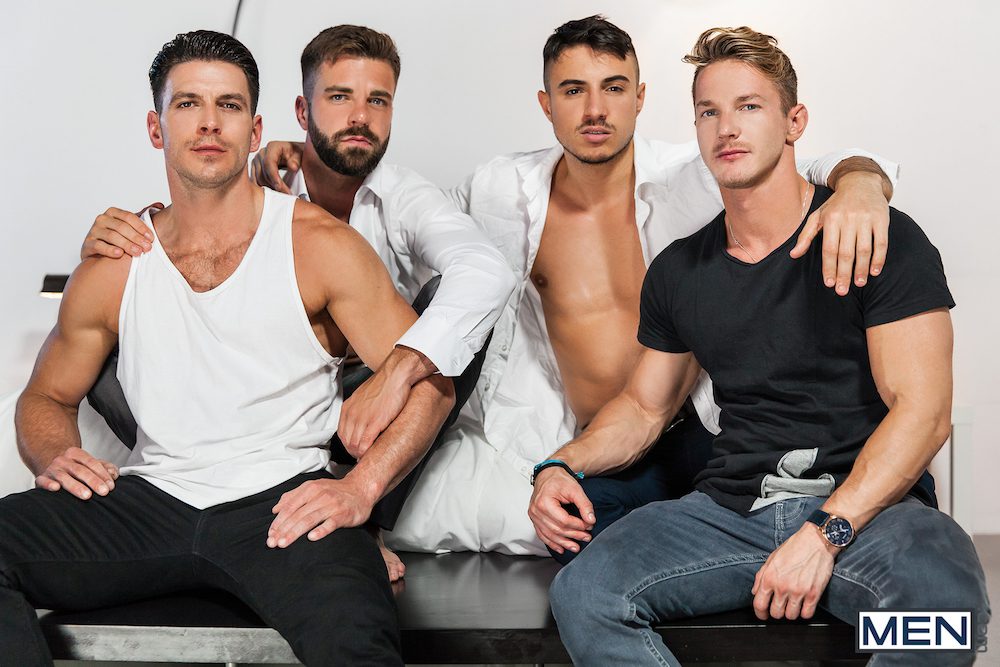 In part one, we saw boyfriends Paddy O'Brian and Darius Ferdynand check into a hotel together for the weekend. While Darius freshened up in the shower however, Paddy snuck away to hook up with the sexy bellboy Klein Kerr (see my post here). Then in part two, after Darius had caught Paddy and Klein together, he bumped into sexy stud Hector De Silva and decided to get down to a little action himself too (see my post here).
Now in part three, all of the guys come together for some fourway group sex action. Each knowing what the other has done, Paddy and Darius have talk together and clear the air. But they decide to take things even further and ask both the guys they'd hooked up with separately to join them for a fourway. In the hotel room, the guys all get together and the action in smoking hot right from the start. There's group oral action as the guys take turns to blow one another's throbbing dicks, and some great double cock sucking from Darius too as he slurps on Paddy and Hector's dicks at the same time while Klein eats out his sexy muscle butt.
The anal action is just as intense, with all four guys sharing the same bed as they fuck. Darius gets a ride on Paddy's dick while Hector slams his tool deep into Klein's tight hole, and then it's all swap for Darius to fuck Klein while Hector services Paddy's uncut cock. Hector then gets a turn to pound Darius from behind while Paddy gets to slam his boner deep into Klein's butt, and after all the ass-pounding combinations are over it's then time for these horny studs to start blowing their hot loads all over!