Ah yes, it's the old "there is a way you can make it up to me" manoeuvre. Always an old favourite in gay porn videos, except this new one from Helix Studios isn't lame. Andy Taylor and Dylan Hall are in a boy band, they also like each other a lot, and can't keep their hands and mouths off each other. And one of their outdoor naked romps together has landed them on some paparazzi's memory stick.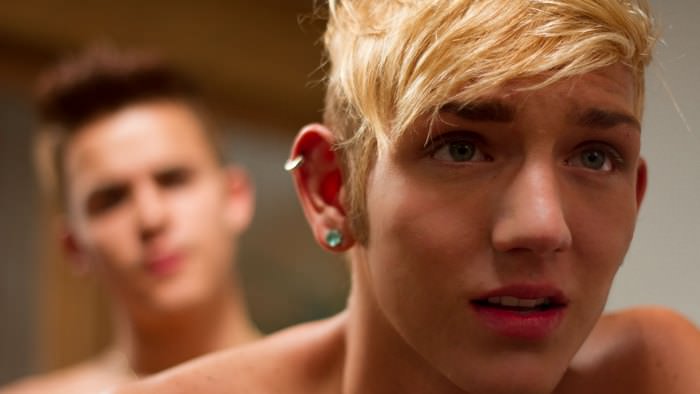 When their record producer Felix Warner calls the boys into the office, they're sure the label is going to drop them. Instead Warner throws a bunch of photos across his desk of the guys sucking and fucking. "I had to pay a shit load of money for these," he says. "But there is a way you can make it up to me." Now you're expecting Warner to order these two guys to suck his cock, and they would have because Andy said, "Anything. We'll do anything." But you'd be wrong. Warner wants an re-enactment of what he sees in the pictures.
So Andy and Dylan hesitantly start necking, then Dylan gets on his knees and blows Andy. Meanwhile the producer already has his dick out and he's stroking and watching. He throws some condoms at Andy and tells him that he wants to see Andy fucking Dylan's ass. And while Andy pumps Dylan's ass, the producer helps himself to Dylan's throat. So looks like Dylan and Andy are in the producer's good graces again; now let's hope there aren't anymore paparazzi at the office window snapping some more steamy photos.