I've really been enjoying Ty Roderick on Helix Studios. He's already filmed a scene with Ryker Madison and a shower sex session with Damon Archer. And now he's back in a multi-part video called VELO. Matthew Keading is a bike courier and he's late for work because he wanted some extra time in bed with his lover, Jessie Montgomery.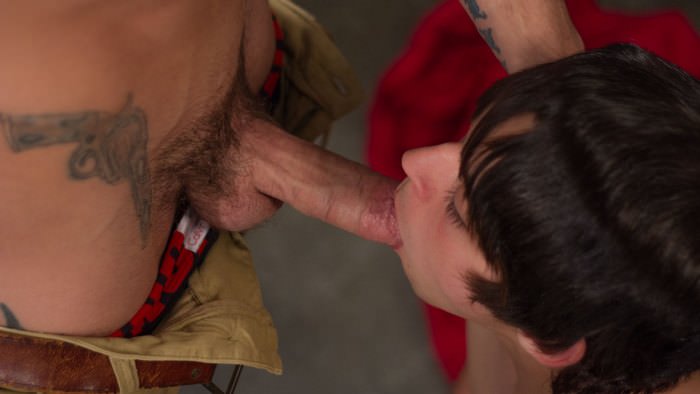 When Matthew arrives at Ty Roderick's architecture company with his package, the executive is pissed. Matthew makes up an excuse about breaking his bike chain, but Roderick is one of those rich, successful pricks who doesn't give a shit about anyone else's problems. The two get into a heated exchange and Matthew blurts out, "Fuck you! I busted my ass to get here."
When Roderick picks up the phone to call Matthew's boss, the boy pleas for his job. The architect leans back in his chair, unbuckles his belt, and says, "How are you going to make it up to me?" Matthew resigns himself that he's going to have to make this businessman's dick feel good if he wants to keep his job, so he sheds his messenger bag, coat, and helmet and gets on his knees. But Roderick is expecting much more than a blowjob and Keading gets his cute little butt fucked all over that architect's office. But the part I enjoyed most had Ty holding Matthew in his arms with his big dick buried in the boy's hole.
And while Matthew is keeping the architect's cock happy, one of the other messengers is back at the depot having a hard time of his own with the dispatcher in part two of VELO. The life of bike courier sure isn't easy.