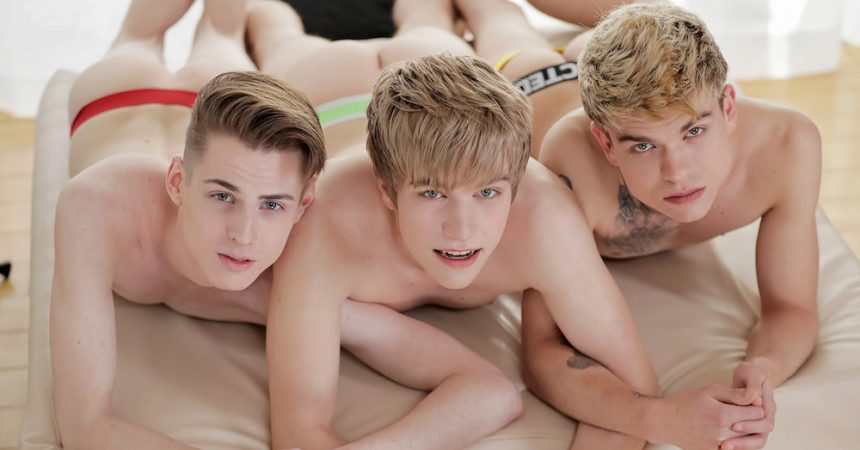 Uncut Twinks Raw Threeway
CLICK HERE TO VISIT THE BRAND NEW ENTICING MALES FORUM - THE BEST PLACE FOR CELEB TWINKS, INFLUENCER TWINKS AND PORN TWINKS! SIGNUP FOR A FREE ACCOUNT TODAY!
Uncut twinks Martin Osment, Patrik Donovan, and Titus Snow hook up for this sizzling bareback threesome.
Patrick Donovan is brand new to the world of gay porn, but Titus Snow and Martin Osment are on hand to help break him in – literally! It all starts off with some passionate threeway kissing as Titus and ~Martin strip the new boy naked. They then take turns sucking his big uncut boner before getting naked themselves. Now everyone's stiff uncut cocks are out! Patrick gets to suck on Martin's dick while Titus continues to suck his. We then get to see Titus an dMartin both suck Patrick's dick at the same time while Patrick blows Titus in a 69 position.
It's then onto the anal action, and Martin is first to fuck. (There's a fun little moment where he puts a donut on his dick before sliding his raw cock into Patrick's tight ass!) Martin fucks Patrick good and deep as Titus feeds the bottom boy his cock. It's then all change as Patrick and Martin get into a 69n position while Titus slides his bare boner into Patrick's butt. Titus pounds Martin's used hole hard from behind while the boys 69 and suck one another. They then change into a new position with Patrick riding Titus balls deep. Martin sits next to Titus, and we then get a seamless transition as Patrick jumps off Titus' cock and right onto Martin's.
Patrick rides Martin hard and soon gets the cum fucked out of him, which Titus greedily gobbles up. Martin then creampies Patrick's hole before shoving his dick back inside and cum-fucking him. Finally Titus cums too, ending this sizzling twink threesome scene in a torrent of jizz!