Do you ever notice that some guys curl their toes when they're really turned on or when they're about to shoot their loads? In this Helix Video, Jacob Dixon is lying back and Daniel Bishop is sitting on him and riding his boner. And while you can tell by Jacob's panting and moaning that he's really enjoying Daniel's ass, if you look closely you'll see Jacob's toes are curled up tight. I love that!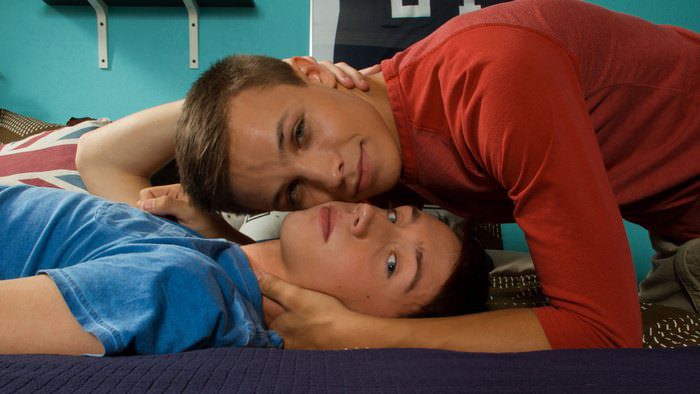 Daniel and Jacob start off with some tender kissing, then they slide their jeans down (but not off) and Daniel climbs on top of Jacob and they start heading into some 69 cock sucking, but Daniel tickles Jacob's sensitive stomach and they giggle a bit. Jacob calms down when Daniel swallows his cock and Jacob gets his throat stuffed.
Standing at the edge of the bed Daniel, holds Jacob's feet and gently, but purposely pumps his hole. Daniel has a beautifully fat dick and it gets Jacob moaning pretty good. And it seems that even when Jacob is on top he really prefers to be on the bottom as Daniel mounts him and rides his dick. With his buddy's hard-on buried in his ass, Daniel blows his cum wad all over Jacob's smooth belly, then he finishes the blond off with his mouth. There's nothing frantic about this session, just two buddies really enjoying a long, slow suck and fuck and making each other's dick and asses feel good.