I've never been a huge fan of guys cumming on my face, I don't hate it, but it's not my first choice. Some sites like their bottoms to get a cum facial, and I have to admit that they're exciting to watch. When I saw Jake lying back in this new video from Hard Brit Lads and waiting for Alex to spunk all over his face, I wondered whether the subject came up in the interview. Or did Jake just arrive on set to have the director tell him that his face was going to get messy. I don't know why I wonder about such things, but I do.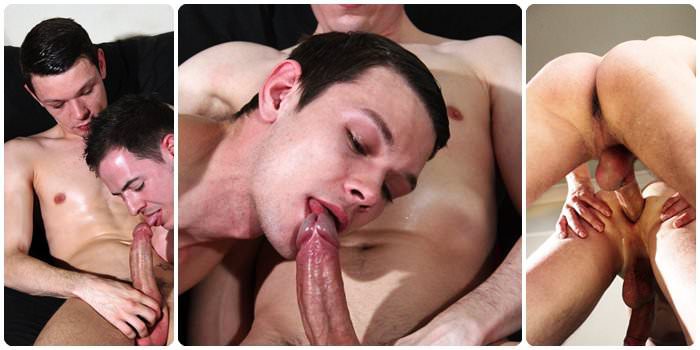 Alex Ford and Jake Richards are a couple of smooth-bodied Brits and they start off this session sitting on the couch. They're bare chested and wearing shiny athletic shorts and as the groping begins, it's not long before we can see hard-ons in those shorts and the guys are looking pretty evenly matched. When the cocks come out, both lads are generously hung and it looks like their cocks are about the same size, although Jake's is definitely fatter.
They swap blowjobs back and forth, then Alex slips a couple of fingers into his rugby buddy's smooth hole and stretches him open. Then Alex sits back on the couch and lets Jake sit on his long boner. Jake's tight ass gets Alex really horny and he's in the mood for some hard pounding, so he bends Jake over the sofa and gets to it. Jake shoots a healthy load of spunk up his smooth belly while he's gulping Alex's cock one last time. And it's no surprise that Jake takes Alex's cum load across the face – a huge sticky blast sails across his tongue and splatters down Jake's cheek and slides down his neck. Jake gobbles up that last few drops and cleans up Alex's cummy cock.