Twinks Jordan Thomas and Robbie Anthony & Teacher Mitch Vaughn
Jordan Thomas and Robbie Anthony sneak into a classroom in this new threeway scene from Teach Twinks. They're getting hot and heavy with some passionate kissing and they peel out of their shirts. Then they hear the new substitute teacher, Mitch Vaughn, coming in the classroom, so they hide behind the desk. As the teacher is writing his name on the black board, they try sneaking out, but Vaughn catches them red handed.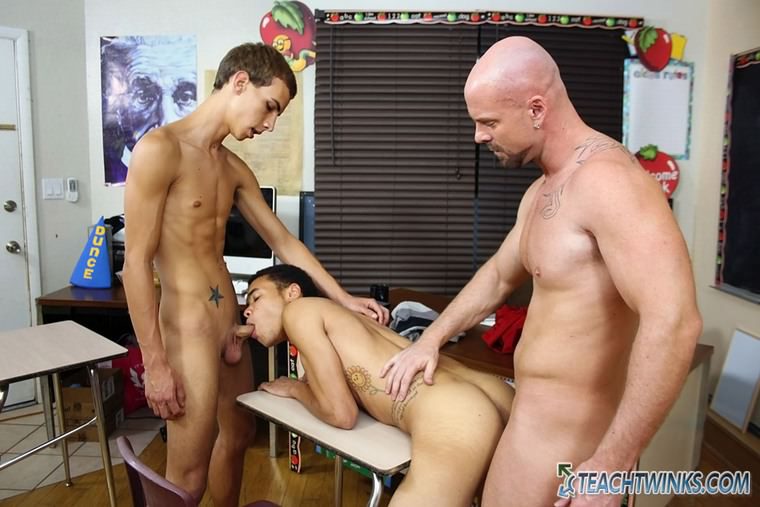 The teacher starts giving them hell and picks up the phone, "What's to stop me from calling the principal right now?" Robbie says that he could join in. "Well, I'm pretty sure the school rules don't allow that," Vaughn replies. Robbie's a cocky boy and he gropes the teacher's crotch saying, "But we'll make it worth your while."
Robbie chows down on the teacher's hard-on while Jordan kisses Vaughn and buttons his shirt exposing his muscular chest. Then this horny teacher squats and gives both of these students head while they kiss each other. "I'm going to fuck you," the teacher says, bending Robbie over one of the desks. Jordan stands on the other side and fills Robbie's mouth wile Mitch pounds his ass. Robbie lies back across the desk and gets his ass and mouth filled while Jordan and Mitch kiss each other. With the teacher drilling his ass and Jordan sitting on his face, Robbie's jacking his dick and he unloads his balls all over his smooth belly. But his cum-soaked belly takes two more loads of jizz, and if you've never seen Vaughn unload, he's a cum canon and Robbie is completely drenched.