Those new boy scout uniforms are getting a lot of use over at Staxus. They have just released another in this ongoing series from the big camping weekend. Bryan Roico, Darryl Declan, and Sven Laarson are the latest three guys to earn their "horny" merit badge in this bareback threeway. They left Brad Fitt alone by the fire and he jacks off and shoots his cum load into the fire.
Meanwhile, his three buddies are inside kissing, groping, and stripping out of their boy scout uniforms. I'm getting pretty churned up as they get down to business because redhead Darryl packs a humongous cock and I can't wait to see which one of these lads is going to try and sit on it. Finally naked, these boy scouts get into some horny threeway sucking. And the redhead worms his way between the other two on the couch and they lick his massive tool. Sven does most of the swallowing of this monster meat, then he lies back and Bryan crawls on top.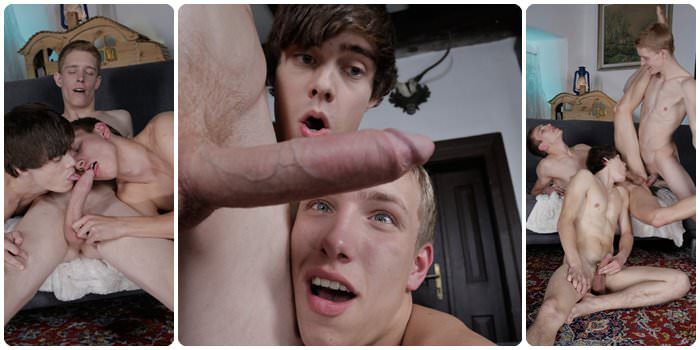 While these two lads are 69ing, the redhead licks Bryan's sweet butt hole and gets it lubed up for his giant cock. Darryl slips his dick in Sven's mouth for an extra lubbing before inching it into Bryan's ass. Sven's eyes are right there and he can't stop looking as the redhead works his hard-on into his buddy's tight butt hole. Bryan and Sven continue sucking each other while Darryl pumps and the close-up action is a huge turn-on to watch. The guys flip around and Sven takes his turn, first getting speared on his back, then sitting on the redhead's giant pink cock.
With Darryl's monster stretching his hole, Sven shoots all over himself, then Bryan cleans up his cummy erection. Darryl jacks himself off and Sven sucks the last drops of cum out his shaft. And Bryan brings up the rear blasting all over the redhead's cum-soaked belly, but he actually shoots the biggest load of the three. Like I've said before, camp was never this much fun when I was a boy scout.