Sam Kirby is a cute British lad who wants to get into gay porn and he shows up at the Staxus offices for his interview. He's cute, 18 years old, and looks like he's Indian. He's got the most beautiful almond-shaped and brown soulful eyes and his plump lips are going to be put to good use. It's a pretty funny opener because his interview consists on the producer pointing to six different sized dildos on the desk and asking, "Do you think you could take all of these up your ass?" Sam says he can, they shake hands, "Welcome to the company," and Sam is set up in his debut scene, a threeway with Kamyk Walker, but as Kurt Maddox.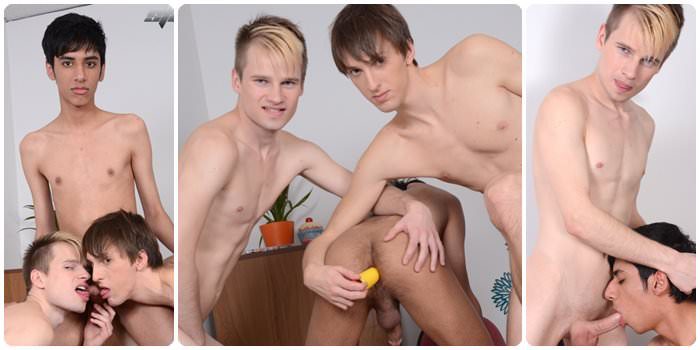 I feel a bit bad for Sam because Kamyk is a one-speed fucker – hard and fast – so his first scene isn't going to be an easy one, but it will put his bottoming skills to the test. After some warm up kissing, Sam strips and lies across the desk and Kamyk thrusts his long dick down the boy's throat while Kurt sucks Sam's thick cock.
Eventually this porn audition goes anal and Kamyk opens up Sam's furry butt with a couple of dildos. Bent over the desk Sam gets his ass drilled by the blond while Kurt fills his mouth. Kurt's cock is longer and thicker with a bulbous head. The guys swap ends so the Kurt can have his turn screwing this newbie. He pumps away while Kamyk unloads all over Sam's mouth, then the bottom's dick explodes all over his smooth belly, and having done his job, Kurt moves around so he can feed this first-timer another load of creamy spunk.