The top 10 Helix Studios bareback videos from the first quarter of 2016 as rated by members.
The first quarter of the year is now up, and twink porn site Helix Studios has a large number of scenes to show for it too. These have been a mixture of bareback and condom scenes, and the number of bareback scenes totals 13 since the beginning of 2016. As voted for by members, here are the top 10 of those bareback scenes in order from lowest rated to highest rated:
10 – When Bae is Away
Kyle Ross and Calvin Banks.
Just in at number 10 is this scene from March 15th, featuring hung jock Calvin and blond bottom Kyle. Some amazing rimming action in this one, plus we get to see Calvin's big dick pump in and out of Kyle's tiny ass deep and raw!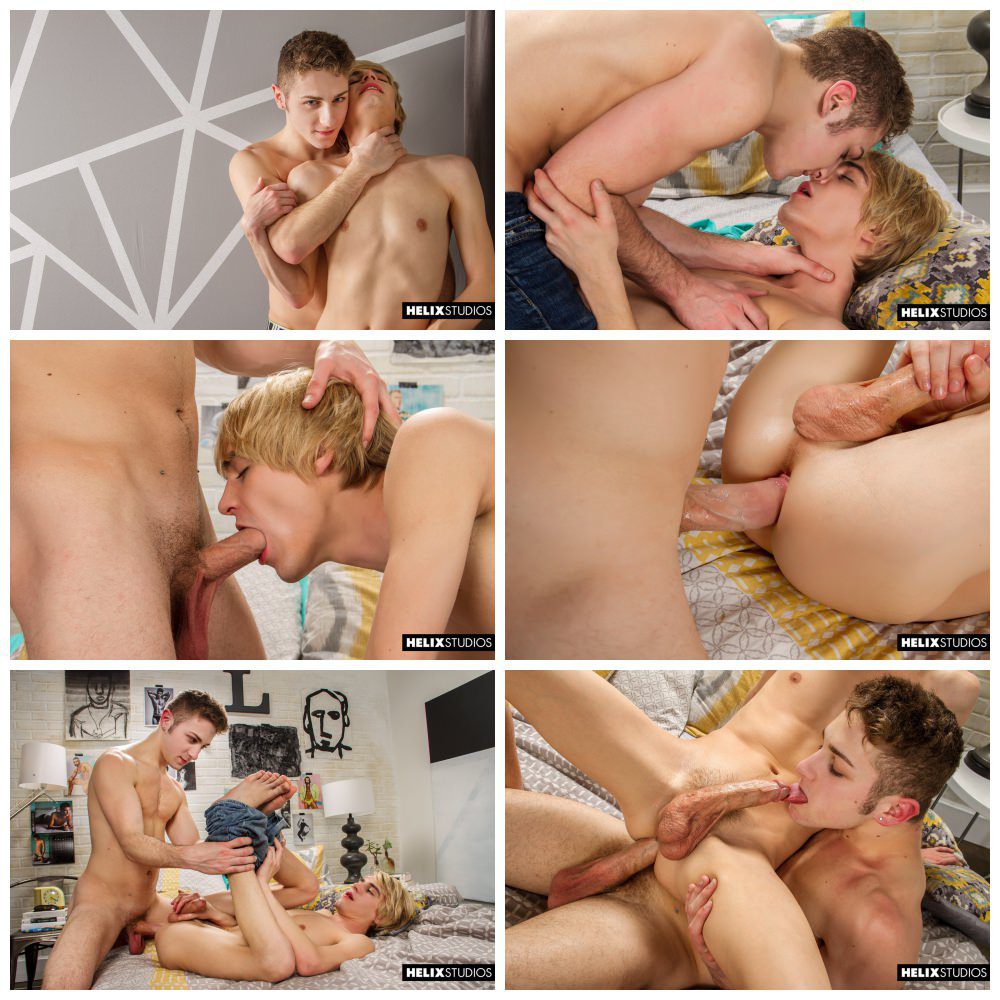 9 – Dirty Laundry
Grayson Lange and Calvin Banks.
Calvin makes it into the top ten again with this scene featuring cute bottom boy Grayson. His big dick barely fits in Grayson's mouth, but the twink does a great job of sucking it anyway. Amazingly, Grayson's tight little butt was able to take every inch of that huge bare boner as Calvin fucked him all over the bed!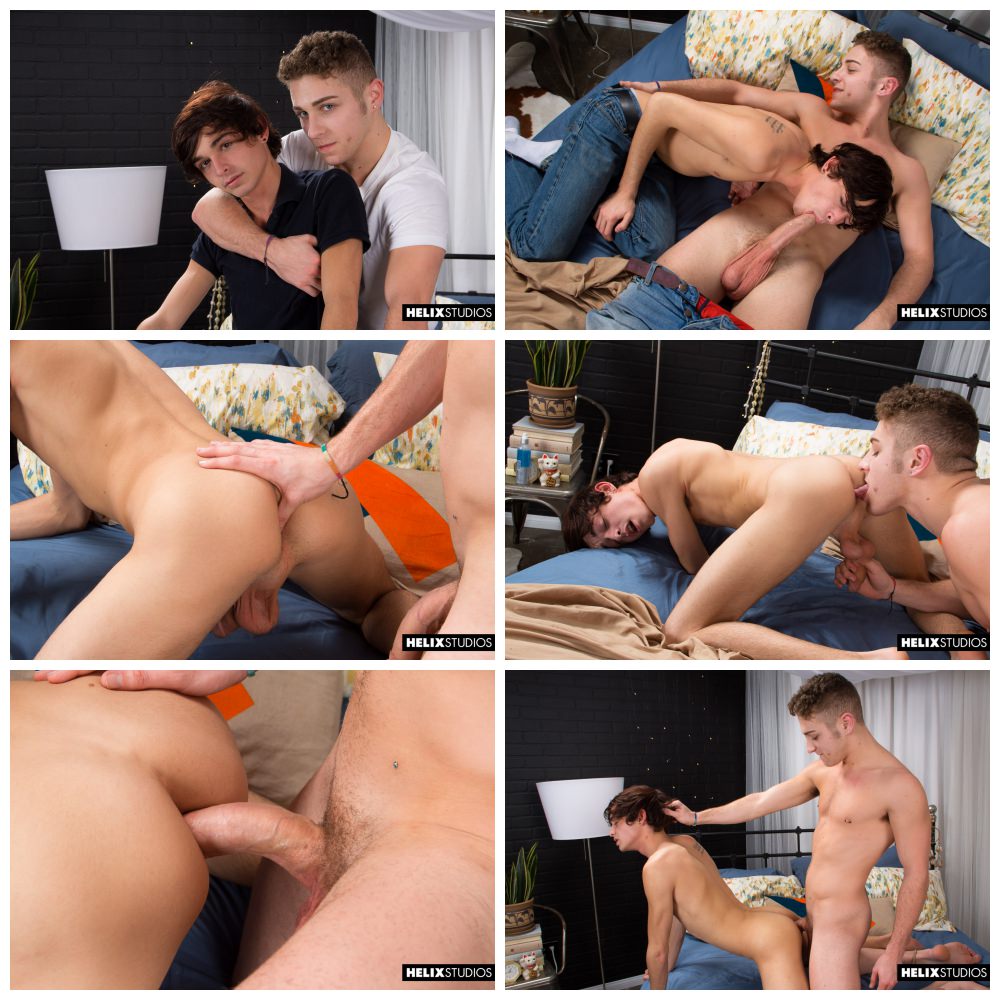 8 – In the Flesh
Jessie Montgomery and Lukas Grande.
Lukas returned to Helix Studios for two scenes in 2016, this being one of them. It had been a good six months since he last appeared on the site, but was definitely great to see him and his thick cock back again. The inked jock is paired up with studio regular Jessie here and pounds his smooth ass bareback, filling the bottom boy with every inch of his big dick. I particularly loved watching Lukas fuck a hot load of cum right out of Jessie!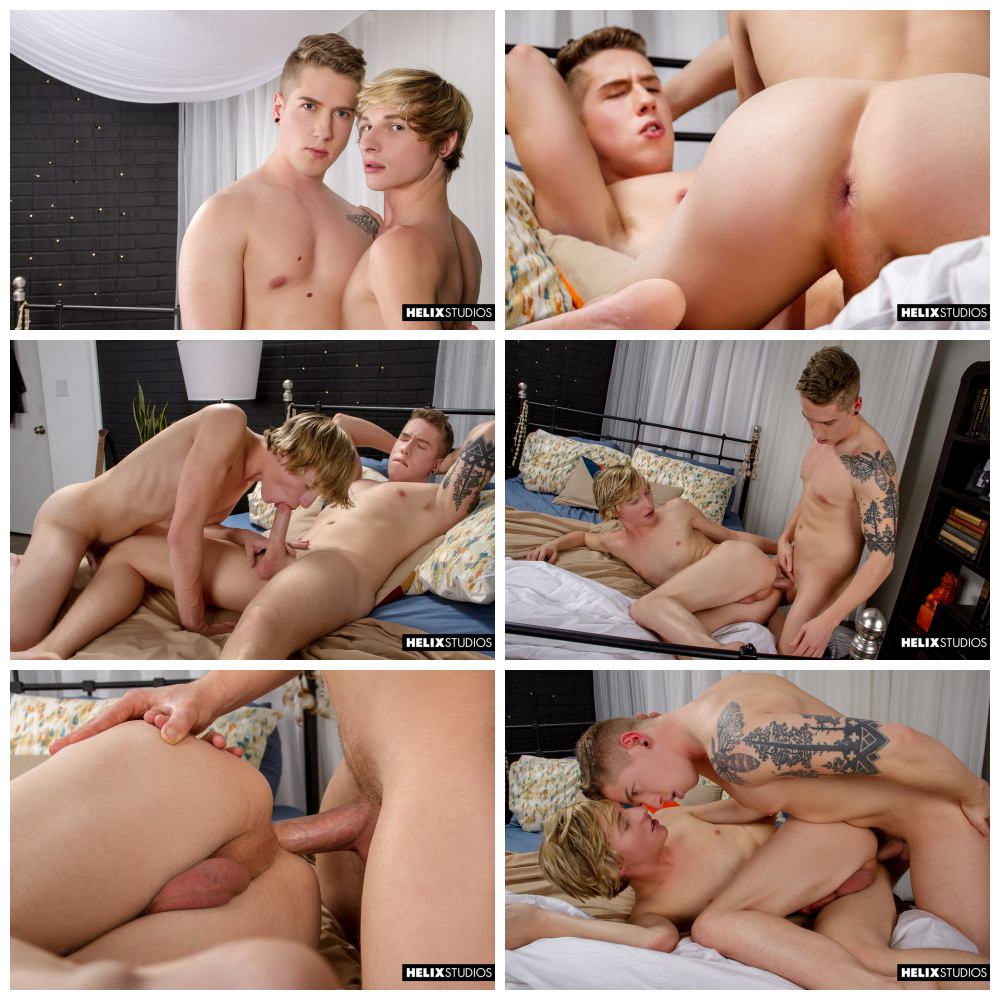 7 – #helix
Zach Taylor, Logan Cross and Lukas Grande.
This is the only Helix Studios bareback threesome released in 2016, but it's no surprise it's in the top ten. A great trio of guys and some amazing sex make it a firm favorite and one to watch again and again. Logan Cross is the designated bottom boy, and takes both Lukas and Zach's dicks deep and raw. Zach also gets fucked by Lukas in the scene, plus there's a smoking hot bareback chain fuck with Zach in the middle of Logan and Lukas. That part alone is woth the join fee!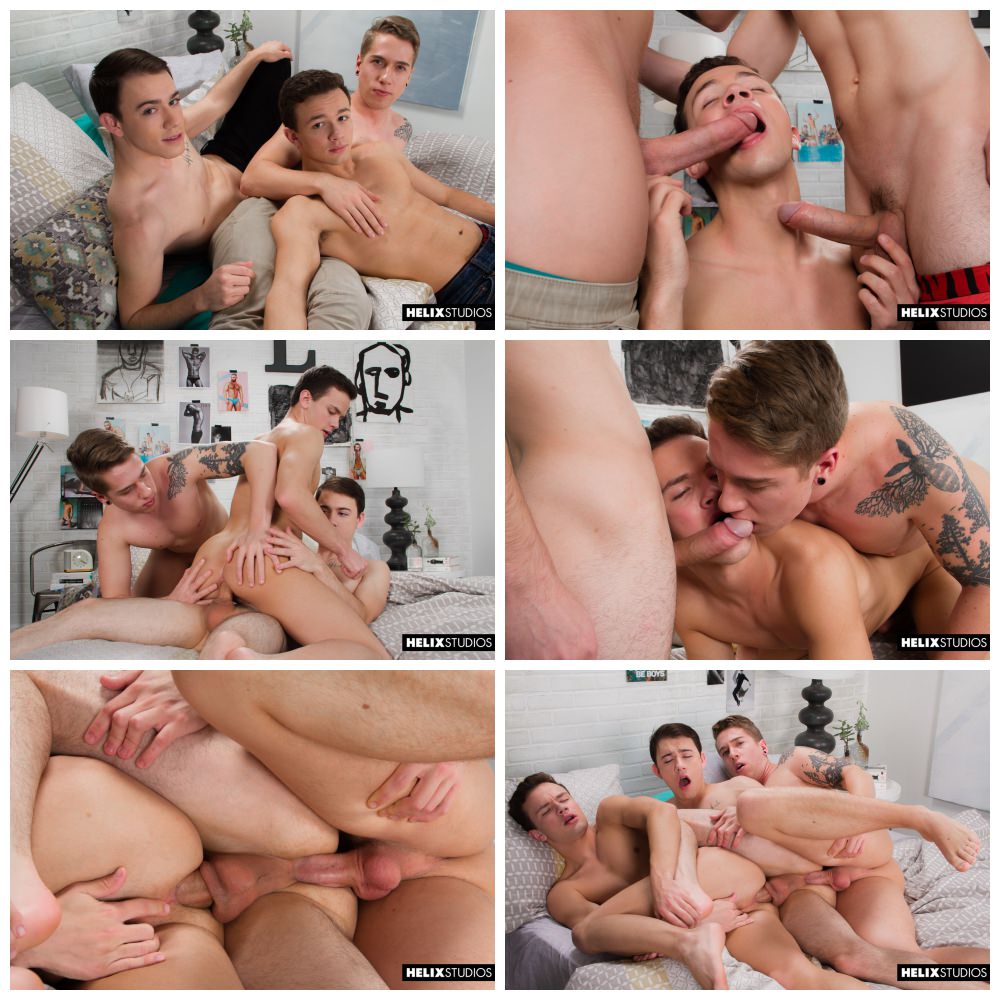 6 – A Year Together
Dalton Briggs and Cooper Steel.
Real life boyfriends Dalton and Cooper first had sex together in a scene for Helix Studios exactly one year before this scene was filmed. They returned for this anniversary scene, and once again fuck raw in a passionate and lustful video. A great glimpse into how they do it behind closed doors!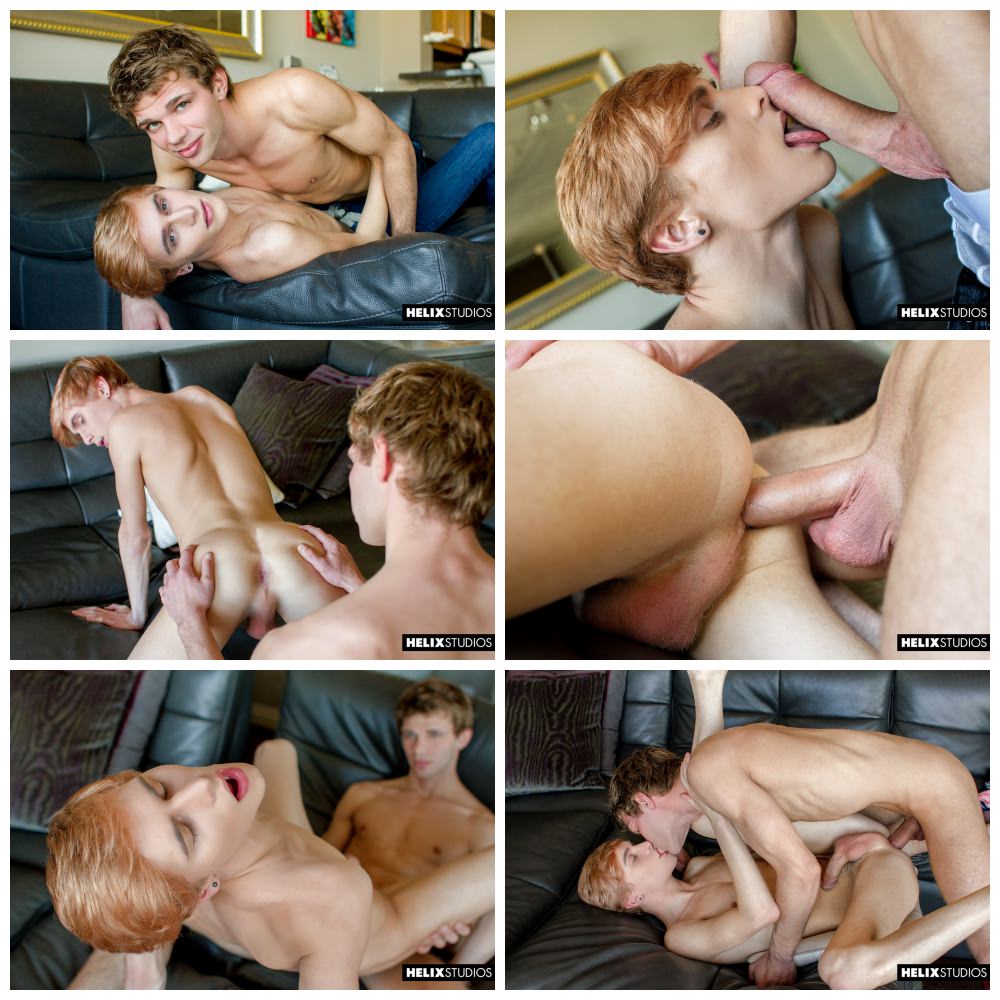 5 – Running Through My Mind
Jessie Montgomery and Kaleb Marshall.
Kaleb is a new model for Helix Studios in 2016, and this is his first ever bareback scene too. Versatile blond boy Jessie does the honors as top and pumps his big bare dick deep into Kaleb's tasty looking twink ass. Kaleb's a natural on camera and it's damn hot watching him getting fucked all over the bed from all angles. Hope to see more of him in 2016!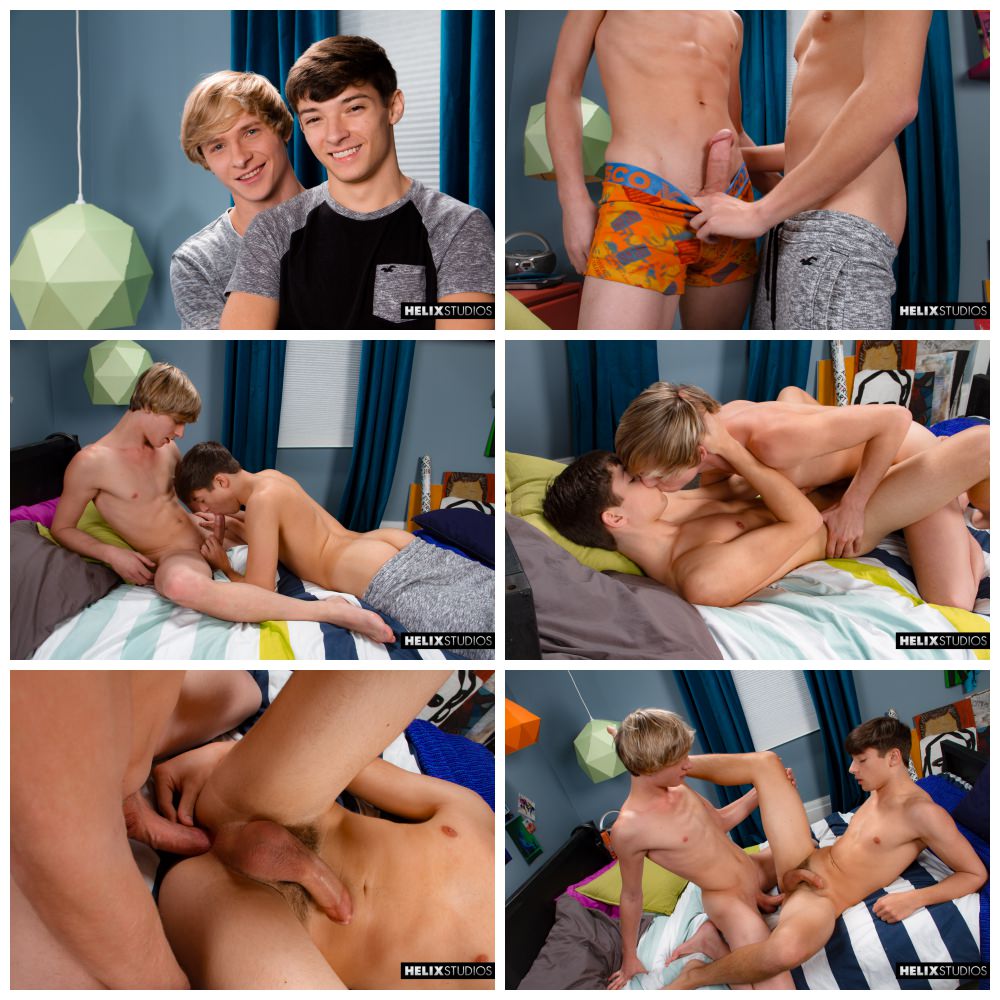 4 – Bases Loaded
Max Carter and Noah White.
Damn. I was really hoping this scene would be number one, as it's my favorite Helix Studios scene from 2016 full stop. Maybe even from the past year, it's that good. Perhaps it's the sexy sportswear and the fact they leave most of their baseball gear on throughout the video, or perhaps it's just watching Max's lovely big dick sliding in and out of Noah's smooth little hole bareback…. Or maybe it's a combination of both! It all adds up to a damn hot scene with sexy inked jock Max giving it to Noah deep and hard, and the cum shots top it all off perfectly. And can I just mention; Noah wearing a jock being held up in mid air by Max while bouncing on his throbbing raw cock. I'm done!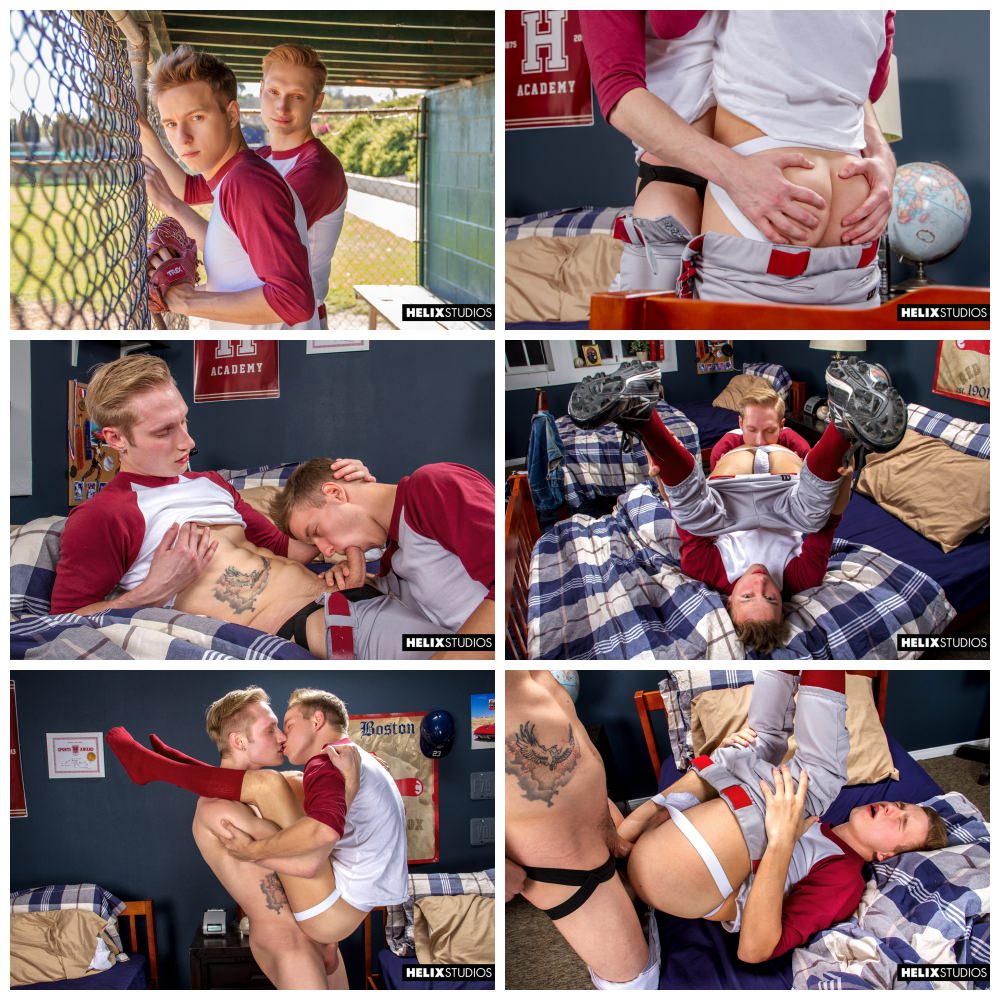 3 – Squirt Fun
Logan Cross and Brad Chase.
"Squirt Fun" gets it's title from the two boys, Logan and Brad, having a tonne of fun with some water pistols at the start of the scene. Or maybe it's because of the huge loads of jizz they spurt out at the end? Whatever the case there's some seriously hot sex in between, and it's not limited to one top either since they flip-flop and fuck each other bareback.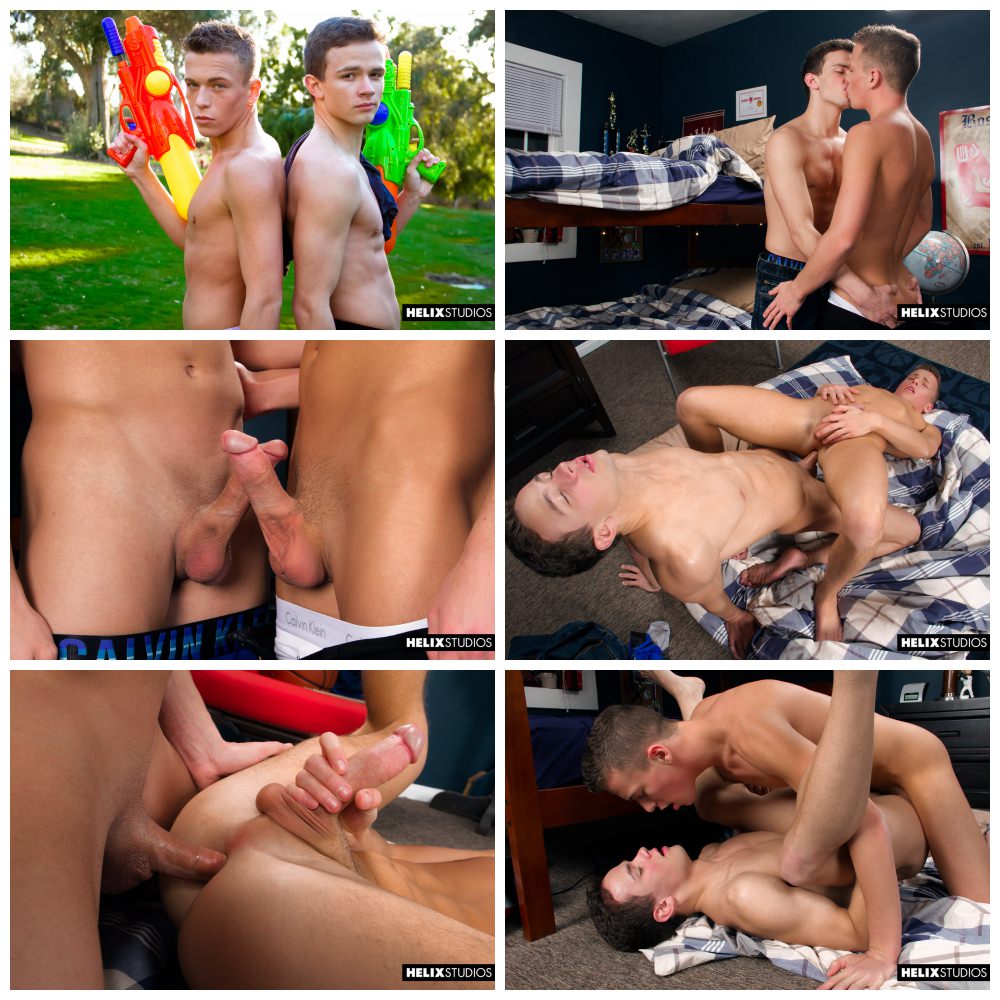 2 – First Time Flashback
Alex Killborn and Noah White.
Cuter-than-cute blond boy meets sexy inked jock in this smoking hot scene, so it's no surprise it gets such a high rating. Alex recounts losing his virginity, and re-enacts the first ever time with Noah for us, sneaking into the twink's bedroom and proceeding to feed him his throbbing cock. Once he's bent over the bunk bed, Alex pushes his raw cock into Noah's tight little pucker and then fucks him hard and raw until he fucks the cum right out of him. Now that's a first time well worth recounting!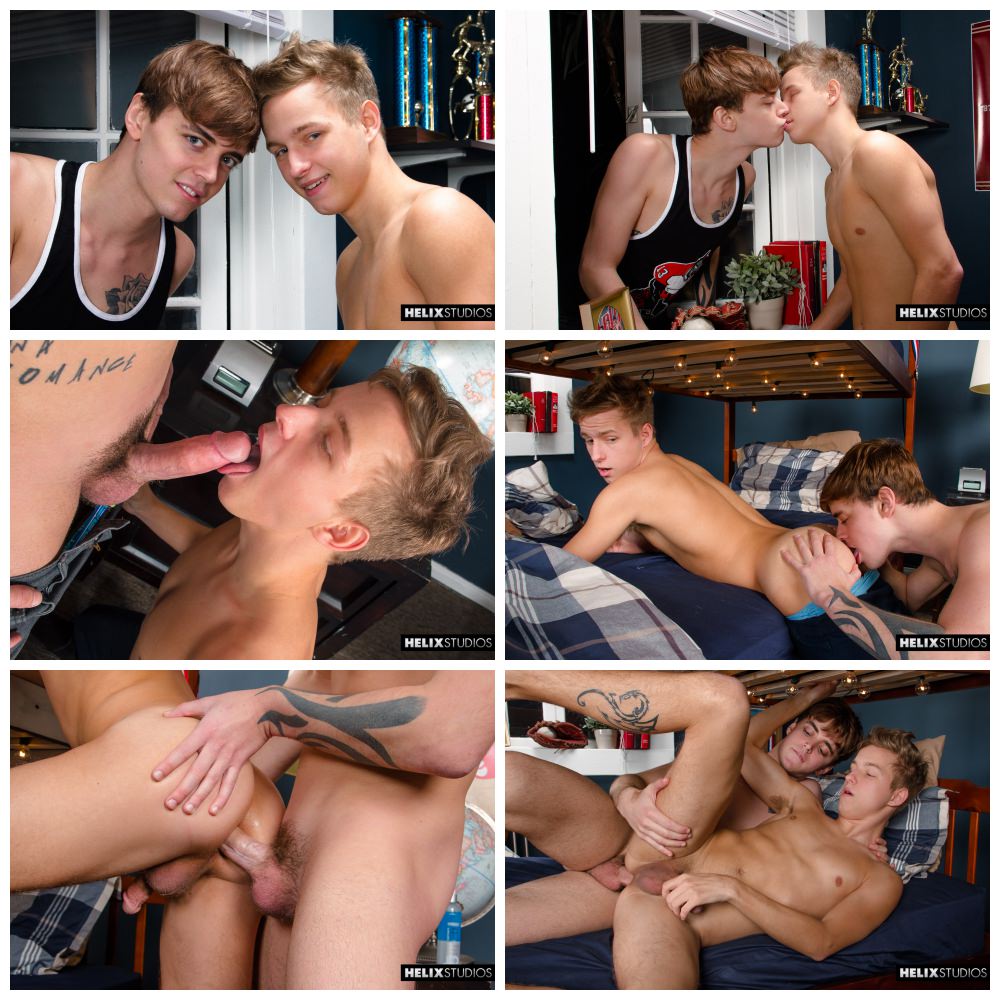 1 – Sweethearts
Evan Parker and Tyler Hill.
Here it is – the number one highest rated bareback scene of 2016. In fact, it's currently the 7th highest rated video of all time at Helix Studios. Real-life boyfriends Evan and Parker pair up and give us a genuinely sweet, passionate, lustful and hot scene, so it's no surprise it got rated so highly. Evan is the top in the relationship, and he shows it off here nicely as he rails Tyler raw. The best thing is how much hot and horny chemistry they give off despite being a long time couple – no phoning it in here. These boys really know how to put on a show!