I don't know what's the matter with blond Brit Connor Levi. He's pissed off when handsome, young Timmy Taylor disturbs his sunbathing. I sure wouldn't mind if Timmy decided to pay me some attention while I was lying out in the nude and sporting a hard piece of wood. Timmy offers Connor a massage to make up for his misstep. "Well, you might as well," Connor quips. "You've waken me up now."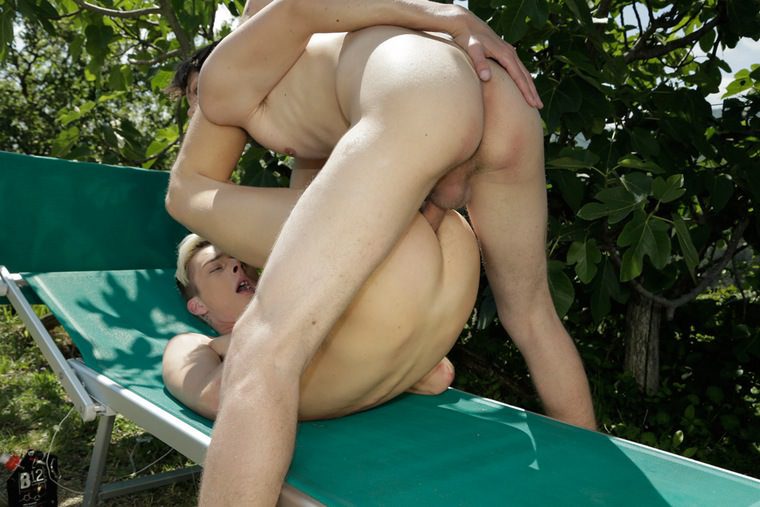 Timmy drizzles lube all over Connor's cock and begins working it. A few minutes later, and Timmy stands up sporting a nice big hard-on. Suddenly Connor does seem so pissed off and opens his mouth. Timmy straddles the lounge chair and throat fucks his buddy, and after giving him a good feeding, Timmy moves to Connor's ass. The blond Brit throws his legs in the air and Timmy squats over him and slides his hard dick all the way in it.
Timmy thrusts into Connor's hole with fast and furious strokes and drives the bottom crazy; he's loving this mid-afternoon screwing. When Timmy needs a break, he lies back on the chair and lets Connor ride his meaty uncut dick. And when his balls get that tingling feeling, he pushes Connor off and cums all over his face. He blows a nice sticky jizz load all over Connor's lips and cheek. And now Connor has something else to bitch about: he was woken up from his nap and he's got a face covered in cum. But his hole feels good, so he's going to let this one go.