Dalton Briggs, Dirk Caber, and Vincent Diaz all finally hook-up together for the finale of the smoking hot "Stepdick" series from MEN!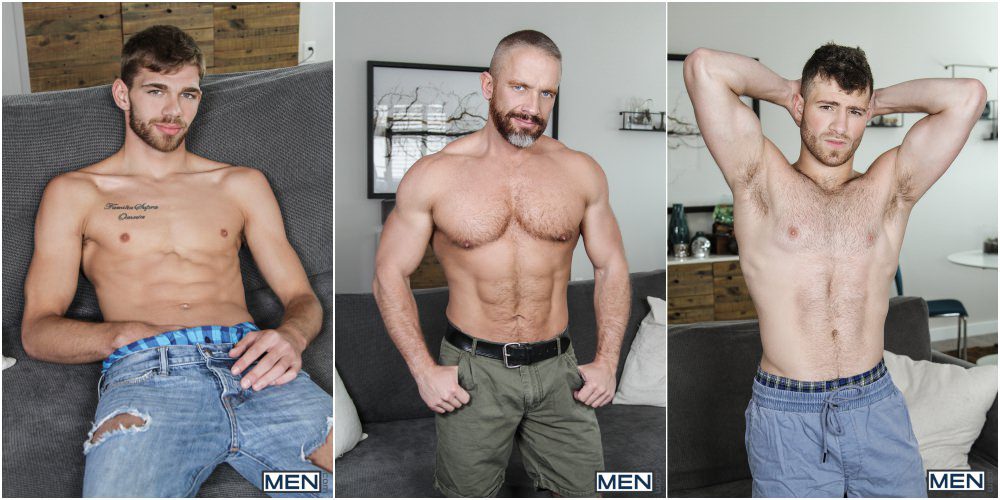 In previous scenes from the series, we've seen Dalton fuck Vincent, Vincent fuck Dirk, and Dalton fuck Dirk. Now is this final scene, Dalton and his buddy Vincent hook up with Dalton's stepdad Dirk for some sizzling threesome action together – all while Dalton's mom is oblivious to the gay sex going on around her! We see Vincent helping out Dalton's mom with something on the computer, and then Dalton secretly comes in the room and slides his big dick deep into Vincent's ass while she's still there unaware of what's happening. When Dirk arrives, they decide to head into the room next door though so that they can get on with some smoking hot threeway fucking together without getting caught.
Dirk gets a deep spit-roasting as Dalton fucks him with his massive dick while he sucks on Vincent's boner, and then it's Vincent's turn to get spit-roasted as he blows Dalton while Dirk pounds his tight hole. Dalton then takes another turn on Vincent's as and fucks him hard from behind while he sucks on Dirk's dick, but unfortunately their plans of staying under the radar don't work out when Dalton's mom  finally catches them….  But do they really care?