OMG! There's a new boy at Helix Studios and he's so fucking sexy. There's so much to like about Liam Riley, I don't know where to start. He's good looking, very cute, with dark eyes and plump lips. He's freshly shaved, but you can see dark stubble on his chin and above his lips; his cheeks don't look like they're caught up yet and they're completely smooth. He's only 19 years old and just out of high school.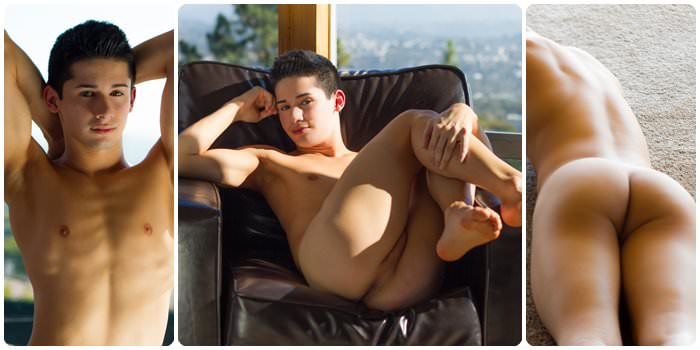 Liam is gay and says that he was boy crazy in high school. He didn't bother with trying out the whole dating girls thing, this boy knew that he liked guys. He's got a tight and toned body and was very athletic in school; he's completely smooth and even shaves his pubes. He's got long legs and a perfectly beautiful smooth butt. Thank goodness Liam's a bottom because it'd be a sin not seeing someone fucking his sexy little ass.
And Liam has jumped right in. Not only is his first jack-off video on Helix Studios, but he's already filmed two fuck scenes. I'll be blogging about his first video tomorrow here at Dylan's Daily Dose, but in the meantime you could jump over and see Liam taking his first 9-inch cock in his second fuck scene. This boy's going to be hot and he's going to have a lot of fun working his way through the Helix regulars.