Jacob, Jacob, Jacob … you know how it is, some guys are just so damned cute that you could jack off watching them reading IKEA furniture assembly instructions. I've been blogging quite a bit about Jacob Dixon here at Dylan's Daily Dose. He's appeared in eight videos over at Helix Studios, but I haven't gotten around to covering them all, so you'll want to head over there and check out his free previews.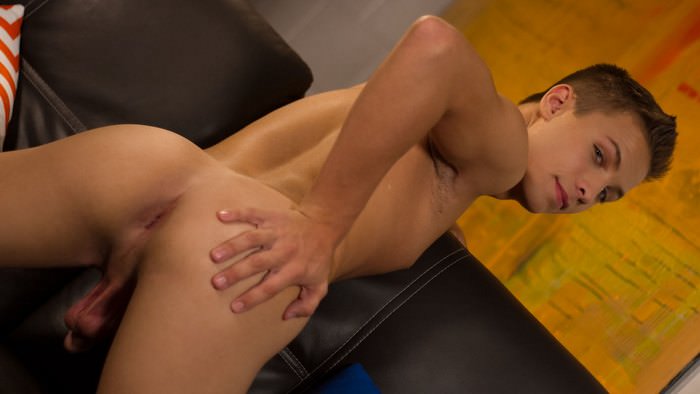 Recently Jacob Dixon did a live show for Helix where he answered questions from his fans and then got down to a horny session with his 9-inch cock. Jacob is 19 years old, 5'9″ and weighs a lean 130 pounds. He's got sexy green eyes and a devilish smirk. And there's no missing that dick of his; it's beautifully long and I love watching his greased fist sliding up and down the whole length of it.
If I've counted correctly, it looks like Jacob has only bottomed in his scenes once, which means you have lots of opportunity to watch him sliding his long bone insides some very cute twinks. But judging by the way Jacob is playing with his own butt hole during his live show, it seems that he likes getting fucked just as much. His profile does say that he's versatile, but I'm guessing Helix just can't stop casting him as a top because who doesn't like seeing a horny boy getting his ass dicked by a niner? And two days after this live show, Helix posted another video of Jacob Dixon fucking another cute butt … looks like I have some more posting to do.