Often times, buying a sectional couch turns out to be a bad idea – they usually only fit into a room one way, and it's usually not the way you want it. But this new scene from Dominic Pacifico shows that a sectional has some very interesting uses, and you might charge out to buy one.
Dominic Pacifico is a lucky guy, he's sitting in the corner of this couch and he's got Andy Taylor and Ian Levine on either side. With a twink chowing down on each nipple, this horny top is in heaven. The two boys move down between his legs and fight for his dick. While one sucks Dominic's cock head the other licks his shaft, then one swallows his big bone while the other licks and sucks his nuts. But these two boys know how to share, so there's really no fighting.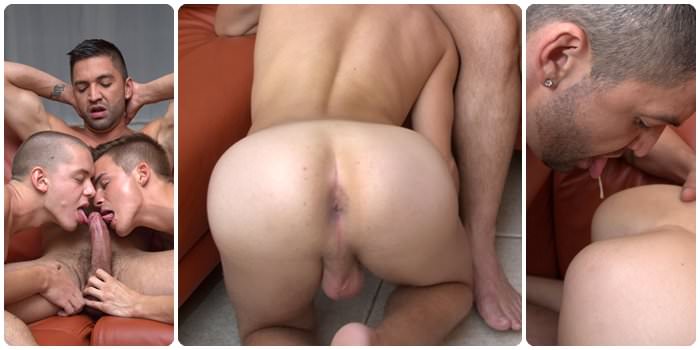 My favourite part of this threeway has Andy and Ian down on all fours, each on his own side of the couch, and there asses are facing Dominic, who is still sitting in the corner. He fingers their butt holes at the same time, then fucks them with a double-headed dildo. The ass fucking is superbly hot. While Dominic screws one boy, the other stuffs his dick in his buddy's mouth. They swap back and forth a few times, each getting their sweet little butts drilled and the positions and configurations are horny and turn-on to watch. But this is such a sweaty and sizzling scene that I'm going to have watch it a couple of times to take in all the hotness. And that's not a bad thing.