There's no better way to get over a cheating boyfriend than to fuck one who really appreciates you. In this new scene from Helix Studios, Matthew Keading has just called it quits with a boyfriend he caught cheating on him and his BFF Jamie Sanders is consoling him. But before I get on to talking about the sex, I have to say that yet again the guys at Helix Studios have been producing some really hot stories and the performers are damned good little actors. I see a lot of crappy story lines in gay porn, and even worse acting, but I've been loving the Helix boys a lot.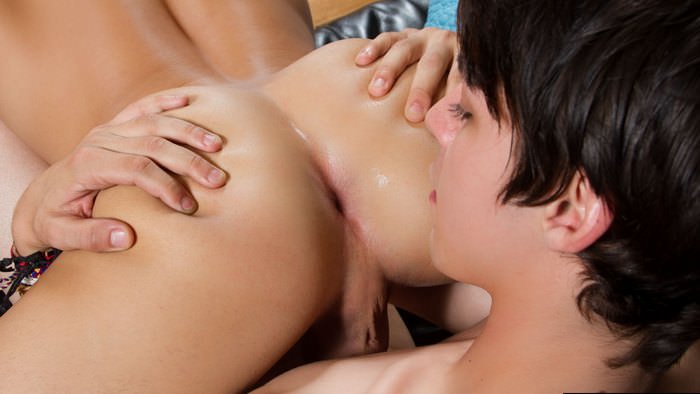 Matthew and Jamie are getting cozy on the couch and watching a scary movie. When Matthew gets frightened and falls back into Jamie's arms and they kiss. After checking that Matthew wants to go all the way, Jamie pounces on his buddy and they neck up a passionate storm.
But there are a couple of positions that really got me revved up in this scene. First, Jamie has his hands on the floor like he's going to do push-ups and his round little butt is in Matthew's lap. Keading smacks Sanders' butt cheeks and rims his hole. But their first fucking position is on fire. Jamie pushes Matthew back on the sofa and hooks the boy's legs over his thighs like he's going to fuck Matthew's ass, but instead Jamie reaches around and stuffs his buddy's thick hard-on in his own butt hole and starts riding. I don't believe I've ever seen this fucking position before, but I'm pretty horny to try this one out as soon as I can. And watching Matthew screwing Jamie doggy style and seeing his big, round nuts bouncing against Jamie's ass got me extra revved up.