I always hesitate to say things like "The hottest thing ever is …" But sucking and fucking outdoors is one of the hottest things a couple of guys can do. The feeling of the fresh air rolling across your naked body or the sun beating down on you is such a wonderful feeling. And the added excitement of getting caught can turn even the most humdrum fuck into something extraordinarily hot.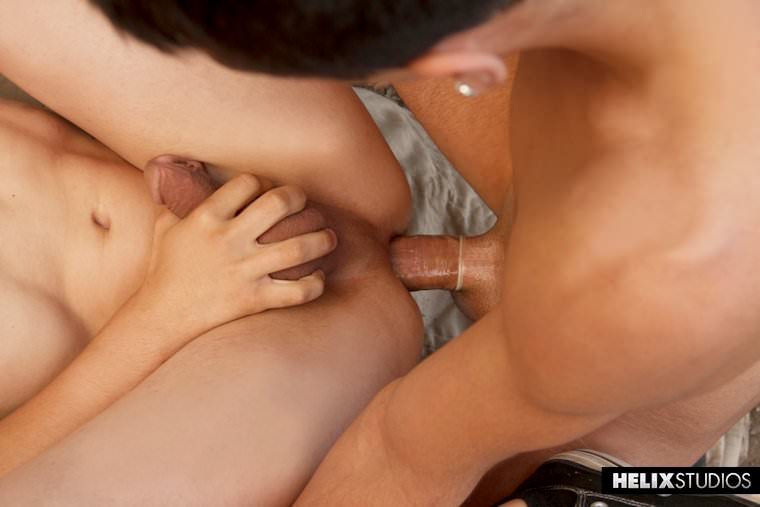 In this video from Helix Studios, Matthew Keading and Roman Daniels hooked up at Hollywood Pride and head off into the wooded hills to get dirty in the great outdoors. After some passionate making out, Roman's big dick comes out and Matthew kneels to suck it. He struggles to swallow this big piece of meat and never really manage to get it down his throat balls deep.
But Matthew does much better when he bends over and offers his ass. Roman spreads the boy's butt cheeks and says, "Oh wow! What an ass!" As he plunges his dick inside, Matthews groans, "Oh my God, you have such a long dick." (Didn't he notice that when he was trying to swallow it?)
After getting his ass worked open, Matthew's really ready for a hard fuck and lies on a blanket on the ground. Roman drills his hole and Matthews hips buck in the air as he's jerking himself off. After Matthew empties his nuts all over his smooth belly, Roman drains his balls across Matthew's sweet face. Where do you find a face cloth in the woods? Because Matthew sure needs one. But walking home with a guy's load smeared across your t-shirt is a part of what makes outdoor sex so fucking hot.