The Dominant Blond Twink: Kyler Ash
Scenarios and story lines in gay porn videos are hysterical sometimes. Take this one from Boy Crush. Kyler Ash is 19 years old and he's playing a teacher at a boy's school. Aaron Stang is his 21-year-old student and he's been hauled into the office because he's been skipping school. If some young twink like Kyler were giving me shit for truancy, I'd take him over my knee and show him who's boss, but that's another kind of video.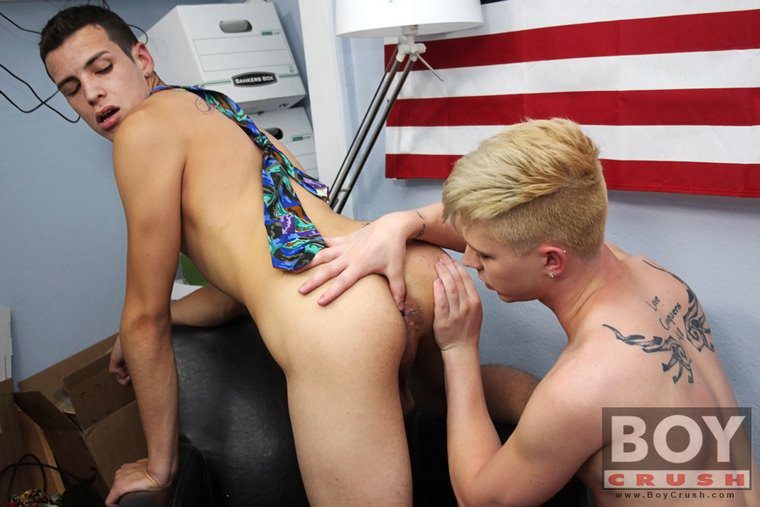 I have to admit that Kyler Ash does a good job of playing a severe teacher and runs his lines well and convincingly. Kyler puts down his sandwich and wants to know what Aaron is going to do to avoid being expelled from school. "I don't give anything away for nothing," he quips. Aaron does what any good school boy would: he gets down on his knees and sucks the teacher's cock.
While Aaron gives him head, Kyler slowly strips out of his suit. He finally orders his student to strip naked and bends him over the desk to fuck his ass. Kyler slips his stiff dick in Aaron's ass and starts pounding him hard. Then the blond top sits back down in his chair and tells Aaron to ride his cock. "I'm loving this ass," he says. Then they're back up on their feet with Aaron leaning against the desk. He's jacking his dick furiously while the teacher pounds his hole. And then, right beside the teacher's ham sandwich, Aaron blows his creamy load of cum all over the glass-top desk. I guess lunch time is over.