This scene from Helix Studios made me giggle a bit. Andy Taylor and Corey Haynes are out for a run and they end up back at Andy's place fucking in their sneakers and nothing else. I'm in the process of moving and had to get things packed up this weekend. And if you follow Dylan's Daily Dose on Twitter, you will have seen the pic I posted of 11 pairs of trainers lined up on my bed destined for a packing box; funny thing is that I don't even run!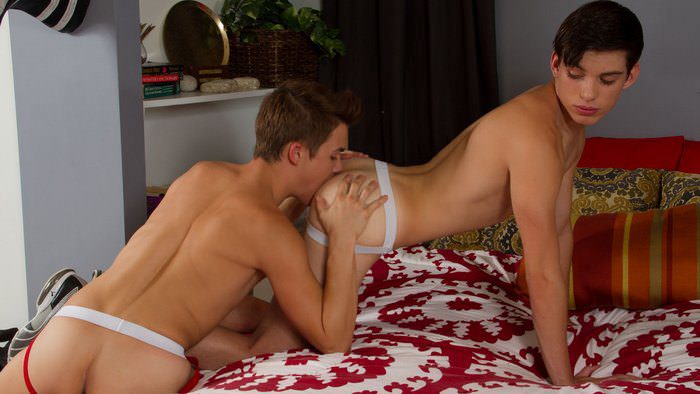 Anyway, back to Andy and Corey. After their run Andy suggests they head back to his place. "I'm tired," he says. But apparently he's not too tired to fuck Corey's ass. The guys slip out of their shirts, shorts, and jockstraps and do some dick sucking before Andy drills Corey's butt. Andy's got such a nice dick for it and Corey's got the tightest, perfect little ass.
After Corey gets his butt loosened up, he swaps positions with Andy and sits on his hard-on. Corey rides it with slow pumps, but Andy can't resist grabbing two fists of ass and thrusting hard up into his buddy. And through the whole fuck and cum-busting finale, these horny boys don't take off their sneakers.