Tenting Twinks
CLICK HERE TO VISIT THE BRAND NEW ENTICING MALES FORUM - THE BEST PLACE FOR CELEB TWINKS, INFLUENCER TWINKS AND PORN TWINKS! SIGNUP FOR A FREE ACCOUNT TODAY!
Christian Collins and Scotty Clarke are away on a camping and fishing trip in this Helix Studios video. They're good friends, but haven't spent much time together this summer, so they're enjoying catching up. After a day on the boat and back in the tent, Christian wants to change out of his jeans, as he slides them off (and he's going commando), Scotty pushes him over. Then Christian jumps on Scotty for a little horseplay. Discovering the hard-on in Scotty's pants Christian says, "Is that a boner?" Scotty giggles as his friend pulls out his dick and starts sucking it, and these best buds move their relationship into friends with benefits.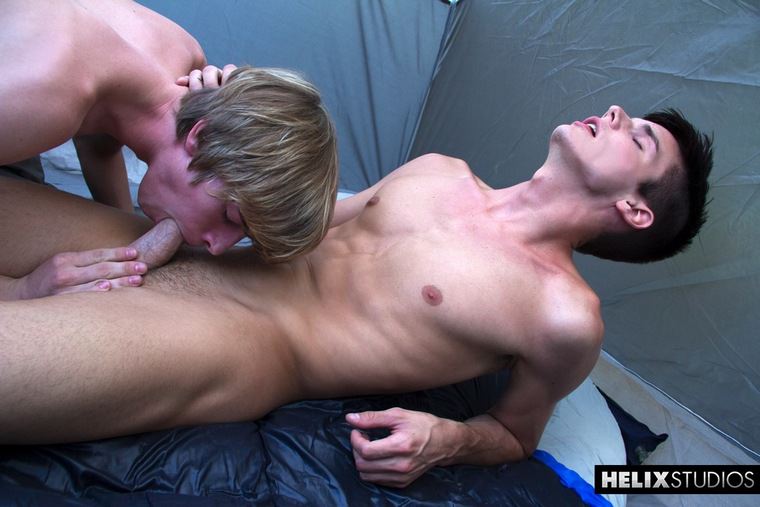 After getting his dick sucked, Scotty discovers that Christian is now also sporting a raging erection, and he's got a big cock. So the blond gets between his buddy's legs and shows him how much he loves that dick. He licks it, kisses it, and swallows it all the way down his throat. You can tell that Scotty's been thinking about doing this for a long time. He mounts his buddy and shoves his thick meat stick up his hole and rides it with Christian thrusting hard up into his ass. Then Christian takes over, lies his buddy back on the sleeping bags and gives his ass a thorough and hard drilling. Fishing and hiking, sucking and fucking in the tent, what a hot way to end the summer.