18 yr old first timer George is super cute. Stripping down to his undies, he shows off his smooth defined body, playing with his bulge.. He gets naked and works his thick uncut meat for the camera, before shooting a ton of spunk over his chest..
George starts off standing, looking into camera with his stunning eyes, and start gently playing with the bulge in his shiny sports shorts. He lifts his top to reveal a tight smooth six pack and large dark nipples.. running his hands over his chest, he plays with his nipples as he gropes himself..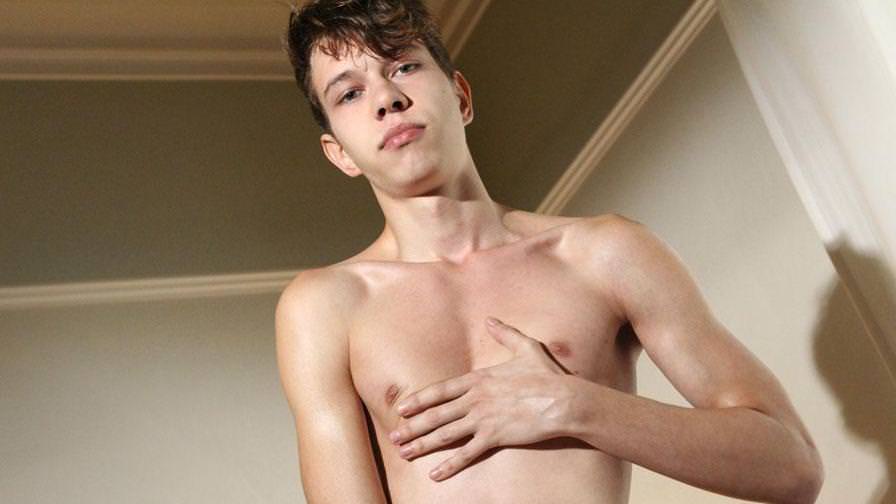 He takes off his top, and continues working on his bulge and stroking his slim defined body, then pulls down his shorts, leaving him in just his tight white boxer briefs. As he plays with his bulge it gets harder, and thicker, and he grips it at the base, so we can see the shape of it bulging through the fabric… George pulls his undies down, letting his dick hang thick and heavy.. its a perfect cock, meaty and uncut with plenty of foreskin. He plays with it a little, then gives us some great foreskin close ups as he slides his foreskin back and forth over the head, then lets it hang again. He jerks himself off a bit, then moves over to the sofa.
Laying back with his legs apart, his dick is rock solid now, and looks bigger and thicker than before.. George plays with it gently, giving us sexy little looks to camera, and strokes his chest, playing with his nipples sometimes as he shows off his meaty cock.  He pours lube over it, working it in, making his dick glisten, and he goes back to horny jerk off action. Horny over the shoulder point of view shots here as he looks down his body to his cock as he plays with it. And some horny shots looking up at him from between his legs.  George starts to work his dick a bit harder now, and it throbs rock solid in his hand.. he gives us more horny looks as he beats away at his meat.. then you can tell he is getting closer.. his breathing gets heavier and louder, and he speeds up a bit more..
With his bell end glistening and throbbing, he beats away hard, until the first powerful jet of white spunk spurts all the way up his body, landing at the top of his chest, followed by several more strong spurts, spraying out over his abs, covering his sweaty six pack with his hot sticky juice. As he squeezes the remaining cum from his cock, it drips down over his fingers, and he gives us a final horny look into camera