HELIX
Helix Studios regular and twink superstar Andy Taylor is back for a new scene this week, and he's paired up with newbie Damien Wolfe, who ticks all the Helix model boxes – cute, slim, sexy… and a nice, peachy ass!

The scene starts out with Andy arriving at Damien's place for a study session, until Damien starts asking Andy questions about what it's like being gay, what gay sex feels like, and if he has a boyfriend. This line of questioning soon leads to Damien experiencing his first gay kiss, and Andy asks "How was that?", to which he replies "Actually, I think we need to try that again!" The boys then start making out, and it's not long before Andy has his lips wrapped tightly around Damien's rock-hard dick.
Damien clearly loves Andy sucking on his throbbing bone, but what he wants more is to find out what it's like to have another guy's dick in his mouth, so he gets down on his knees and opens his mouth for Andy's beautiful boner.

After blowing Andy for a while, Damien then decides he wants to try getting fucked up the ass, and Andy is more than happy to oblige! Damien lays on his back on the bed, and Andy slides his hard cock deep into the curious boy's willing hole. "Oh damn that feels good!" he moans, while Andy begins to pump away, massaging the insides of his ass. "You like that?" "Hell yeah!"
We get some nice close-up shots of Andy's big dick slowly disappearing all the way inside Damien's ass and out again, before they change to doggy style position and Andy thrusts his hips harder into that tight hole. They change position again, now with Damien riding his study buddy's fuckpole fast and deep.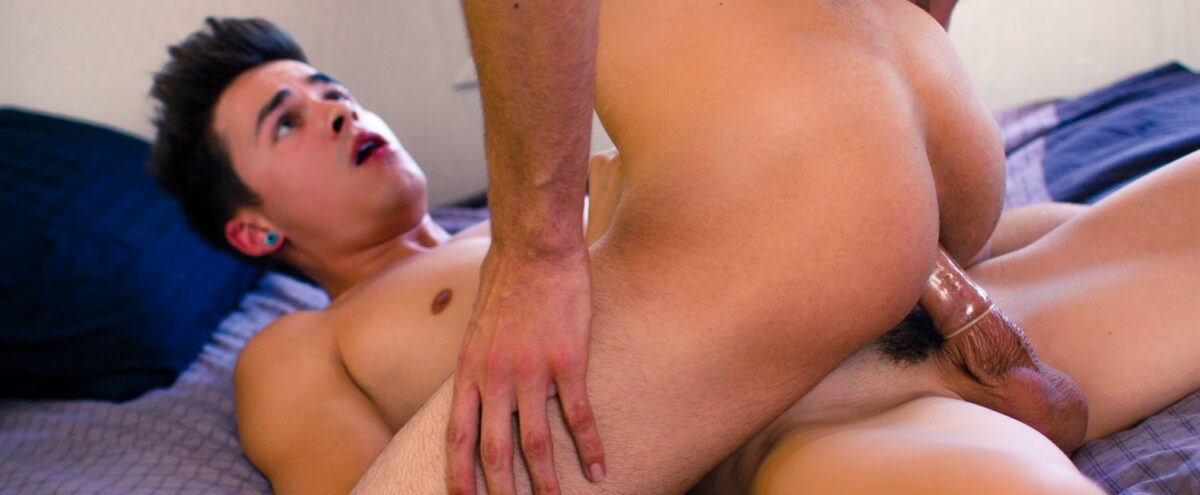 By the end of the session, Damien knows the answer to all the questions he asked – and more!
– Dylan