Detention is supposed to be a deterrent. But in this scene from Teach Twinks, facing an hour-long detention with sexy bearded teacher David Chase sure isn't going to get any errant school boy to change his ways – shit, with this handsome hunk supervising, I'd be in detention hall every afternoon.
Robbie Anthony decided it would be fun to paint graffiti on the cafeteria walls and today he finds himself in the art teacher's classroom after school. David gives Robbie a bit of a stern talk then tells him his assignment is to draw something in his notebook. When the teacher catches Robbie doodling a big cock, he puts the moves on this bad boy.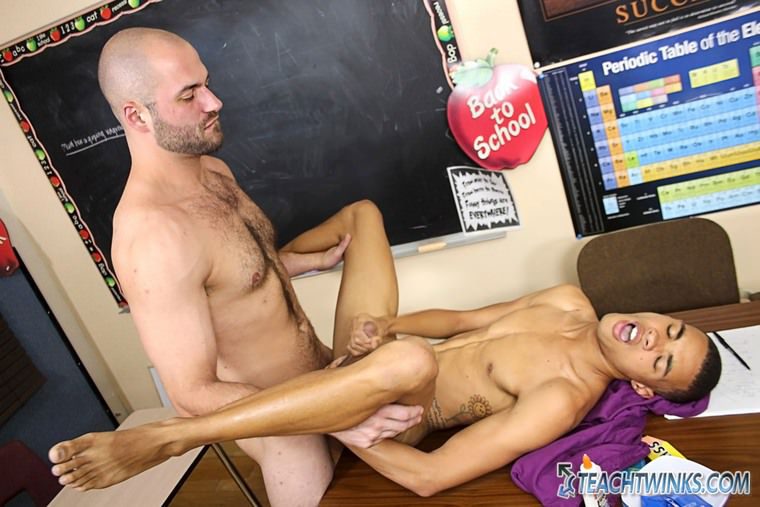 And after some kissing, Robbie starts stripping off the teacher's shirt and tie, then hauls out his big meaty cock and kneels. And swallowing cock is something Robbie does a lot better than painting walls. Chase can't keep his eyes or hands off his student's tiny little butt, and when he bends Robbie over the desk, the boy spreads his ass cheeks wide and offers his hole to his teacher. Chase shoves his big dick inside and gives Robbie a hard fuck. After getting his desk rocking hard and pounding the hell out of his student's ass, the teacher paints his creamy white cum load up and down Robbie's smooth body. So again, how is this bad boy supposed to learn that graffiti is a bad hobby? And where is this school anyway? I've got a case of spray paint sitting in my basement that I've been dying to use.