Tattooed bald guy Cage no sooner finished his jack-off video that Broke Straight Boys had him back in the studio getting and giving his first oral sex. And how could they not? During his interview he said that he was up for trying anything. "You don't live if you don't give everything a try at least once," he offers in his country twang. That's a wide-open invitation over at Broke Straight Boys.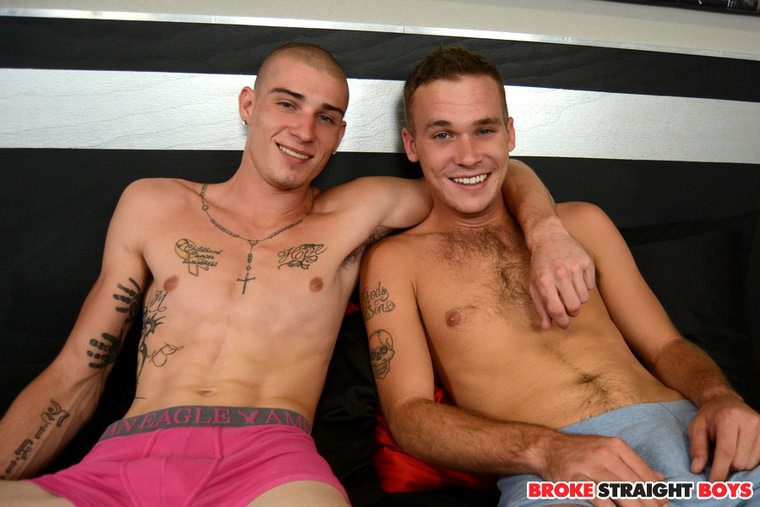 Cage and Romeo James are sitting side by side on the bed and still wearing their clothes. The producer tells them to get naked, and without so much as a blink, Cage starts peeling off his shirt and pants. He's wearing bright pink underwear and when his hoists his legs in the air to slide them off, you'll see two things: a big honky pair of feet and a huge low-hanging ball sack. I think Cage inspired the song "Do You Balls Hang Low?"
Romeo goes down on Cage first and it takes a long time for Cage's dick to rise to the occasion, but Romeo gives good head and eventually Cage's cock stiffens up. There's a funny scene where Romeo pushes Cage's long legs over his head and chows down on his furry hole. At first Cage doesn't seem to know what to make of his first rim job, he's looking up at the ceiling like he's checking for peeling paint or something. Then he sighs and rolls his eyes in the back of the head. "How does it feel?" Romeo asks. Cage sighs again and says, "Fucking good."
Cage is pretty good at giving head, too. He doesn't just bob up and down on Romeo's head, but he swallows as deep as he can, then brings his hand into the action. He stops every once in a while to check out Romeo's cock and gives it a few strokes in his fist, then he's back to sucking. To thank Cage for the blowjob, Romeo gets him to lie back so he can finish him off. Sucking his buddy's hard-on, Romeo jacks off and blows his cum wad on his arm. When Cage warns Romeo that he's about to cum, the cocksucker doesn't stop and Cage unloads in his mouth. And just so we could see how much cum was in those low hangers, Romeo spits it out on Cage's smooth belly. The boy does juice a lot.