Tim Law is a young Slovak boxer sitting in the locker room waiting for his coach in this new Staxus video. Blake Hanson comes in and starts giving Tim hell because he just failed a test. Blake tells the lean stud that the only way he's going to make up for it is to suck his dick, so he hauls it out of his shorts. And Blake gets a good servicing from Tim's mouth.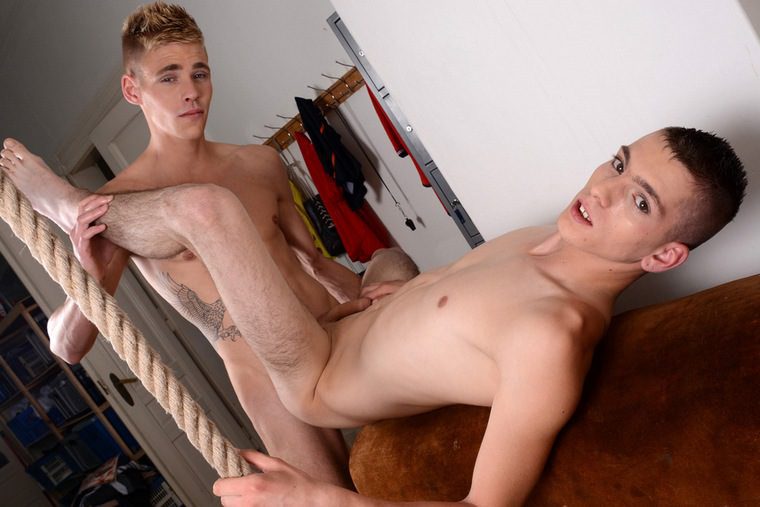 The coach sits down on the wooden bench and pushed Tim's head back onto his hard cock and really enjoy's Tim's mouth. Blake gives Tim so head, too, but he really wants to feel his dick inside this boy's hole, so he opens his locker, grabs a bottle of lube, and squirts some juice onto Tim's hand. While the boxer greases his hole, Blake slicks his dick, then sits back as Tim mounts him and sits on hard-on. Lots of horny close-up action of Tim's uncut meat flopping around while he's bouncing on Blake's thick dick.
Then Blake takes over and these boys really get down to fucking. Blake bends Tim over the bench and screws him, then lies him back across a sort of padded pommel horse for some more hole drilling. Tim's hairy legs are hoisted up on Blake's shoulders and fuck they turned me on so much – furry legs are so hot. With Blake pumping his hole Tim lets loose his cum load and splatters all over his smooth belly. Then Blake pulls out, kneels on the pommel horse and jacks his hard-on over Tim's face. Tim watches Blake stroking furiously, and when the blond stud starts to pant, Tim closes his eyes as the coach's load of jizz falls all over his neck and lips. I think Tim ended up passing his test.