I've seen David Circus around a couple of other gay porn sites, but this is his first video over at Staxus. He's a beefy, blond Hungarian stud and he's heavily tattooed sporting "The Fame Monster" across his chest and lots of ink on his lowers arms and fingers. He's also grown a moustache and a bit of chin scruff. But the thing I always liked about Circus is that he's got oodles of foreskin. Even when he's rock hard, there are wrinkles of hood collaring his cock head.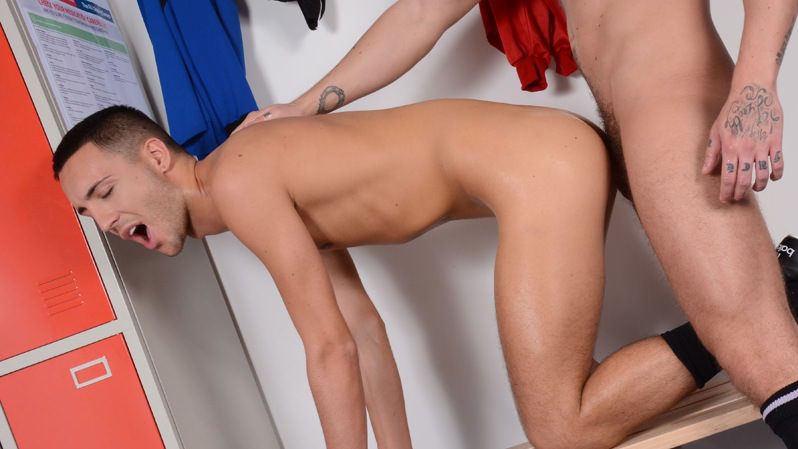 In this locker-room fuck scene, Jordan Jacobs comes into the change room to find David sitting on one of the benches. He still wearing his soccer gear and as Jordan starts stripping out of his uniform, he notices David rubbing his crotch. Circus is a straight guy in real life, but surprisingly he sucks Jordan's dick fairly well. But I'm really thrilled when Jordan gets on his knees between David's beefy thighs and nurses on his dick and all that foreskin. What a huge turn-on!
After Jordan slobbers all over this Hungarian stud's big dick, he gets pushed over the bench in the locker room and David fucks him with hard, banging thrusts. Circus doesn't given Jordan much time to get used to his hard-on before he's drilling fast and deep. Circus ends up sitting on the bench with Jordan riding his dick and this is how the bottom shoots his load. I was so turned on by this scene because Jordan sits deeply on David's boner without moving, and David holds Jordan's thighs tightly with his tattooed hands and lets Jordan jack his dick. After spewing his cum load all over the floor, Jordan offers his smooth body as a bulls eye for David's cum, and this blond top unloads a massive load all over Jordan – I mean David really covers Jordan's whole body with sticky, white goo.