Orlando White is a gorgeous Hungarian guy. He's strikingly beautiful with deep brown eyes, hot lips, and a square jaw. He's packing a tight and smooth body and his treasure trial drives me. And with a thick uncut cock, he's one of my favourite tops over at Staxus.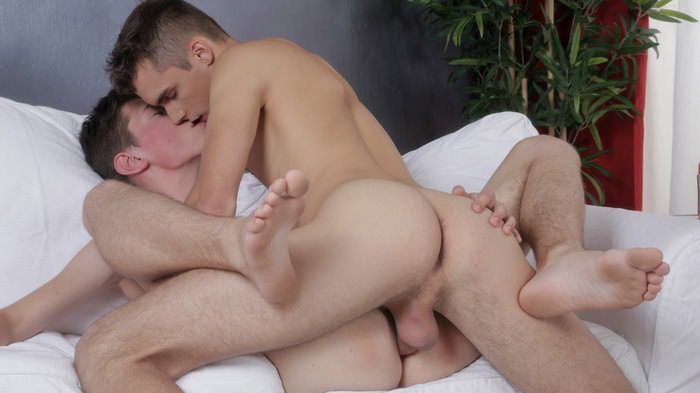 White is wearing a pair of coveralls and a tool belt and he's working in the yard, picking up trash as the home owner, Matt Johnson, watches from the window. When Orlando thinks he's done, he looks at the window for approval, and Johnson just says, "More." White comes upstairs and storms into the room, he's furious. Matt quickly calms him down putting his hand on the hunk's crotch and planting a kiss on those beautiful lips.
Matt alternates between sucking and fucking Orlando's thick dick, then the Hungarian stud shows the boy what "more" really means. He greases up his hand and starts playing with the bottom's smooth butt hole. Orlando's fist stretches Matt's ass, but he's never able to get is whole fist inside the boy. Matt takes as much as he can and his ass loves being filled up. Orlando sucks off Matt, then sits back on the sofa jacking his dick. Matt gets his mouth in close and offers his tongue as the perfect, wet target for Orlando's creamy load and the top coats the boy's tongue with jizz.