I haven't seen a threesome on Helix Studios for a little while, so this one called Movie Night Threeway caught my eye. Adrian Rivers is one of the newer guys over there and he takes my breath away. He's a handsome, 19-year-old Latin guy with beautifully plump lips and a sexy accent, and his 9-inch cock always is always a turn-on whether it's plunging down some guy's throat or up his ass.
Matthew Keading has invited his secret crush Adrian over for movie night. Matthew hopes that watching a scary movie together might lead to some snuggling, and more. Just as they're getting the movie started, Sasha Peterson stops by and it's quite clear that Adrian has a boner for this blond boy. Matthew's not thrilled by the interruption, and the way Sasha is staring at Matthew, it's clear this threeway is going to have some interesting chemistry.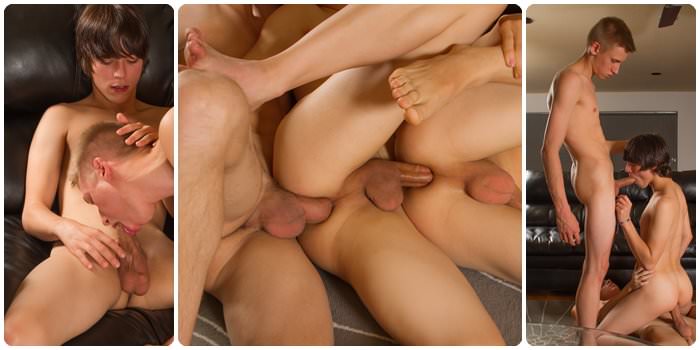 While in the kitchen making popcorn, Adrian puts the moves on Sasha and they're in a full-on kissing session when Matthew returns. Seeing his friend kissing his secret crush isn't exactly what Matthew was hoping for, but Adrian invites him to join them. And it's fun watching these guys going after what they want.
Sasha bends over the sofa and sucks Matthew's dick and Adrian fucks the blond's ass with his huge dick. Matthew wants some of that niner, so he jumps up and pushes Sasha out of the way. But in the end, the guys figure it all out with some grunting train fucking on the floor. Sasha is in the lead with Matthew's bone up his ass and Adrian is the caboose pumping Matthew's hole with his 9 inches. Everyone's happy and no one is left to be odd man out.