Jordan Thomas is the latest cute boy over at Helix Studios to get his ass serviced by Jacob Dixon's big cock. And if you've hung around Dylan's Daily Dose for any length of time, you'll know that I have a hard-on for Jacob Dixon.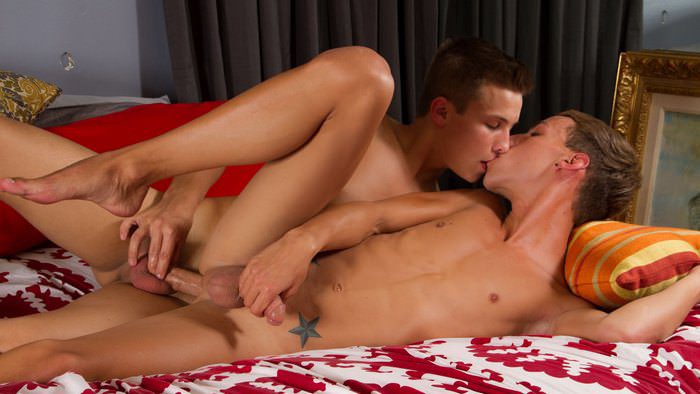 It goes without saying that Jacob is adorably cute and is extremely well hung, but the thing I love about him the most is that he's such an attentive top. "Do me" guys bore me to tears, and a lot of really well-endowed guys think bottoms are so enthralled with their large meat that all they have to do is lie there are get their bones worked. But Jacob Dixon isn't that kind of top.
He pushes Jordan on the bed, pulls down his jeans, and immediately starts sucking the boy's dick; then after stripping out of their clothes, Jacob climbs on top and wraps his hand around their two cocks and rubs them together slowly. And Jacob is not a one-speed fucker either. He slides his niner in Jordan's ass and lets the bottom get used to the size of it, then he dicks him with long, slow strokes, sometimes going deep and sometimes not, he ramps it up a bit and drills him faster, then slows things down again. And poor Jordan is beside himself, he's enjoying this ass fucking so much that he never wants it to stop. And I don't blame me, wish it were me.