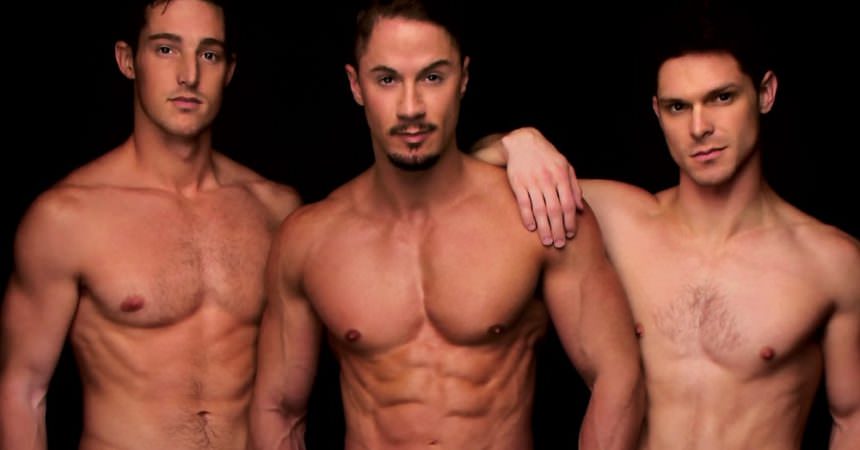 Skyy, Devin, & Steven Threeway
Devin Franco complains to Skyy Knox and Steven Lee about how he didn't get any Canadian cock while on his trip to Montreal. As a way to make up for it, Skyy and Steven offer their cocks up to Devin who happily accepts the offering. Skyy pulls down his pants as Devin and Steven pounce on his hard dick to suck it simultaneously. Steven pulls out his hard dick as the other two take turns blowing his boner. After the oral, Devin is ready for more and bends over to let Steven fuck his ass.
With a mouth on his dick and a cock up his hole, Devin is in heaven as Steven pounds him from behind. The horny trio can't get enough of each other as they switch it up to take turns on Devin's eager ass. Skyy wants in on getting fucked and bends over to let Devin go deep inside of him. Devin slams in and out of Skyy, then Steven takes his place behind Devin and the studs form a fuck-train with Devin getting pleasure front and the back. Devin is ready to burst and with both Skyy and Steven fingering his hole, he lets go and cums into Steven's open mouth. After Skyy and Steven lick up the load, Skyy cums on Devin's ass and balls. As he gobbles up his own jizz, Steven stands above Devin and blasts his hot load down Devin's throat.
Dick Detective's verdict: Excellent! A sizzling threesome with some very hot cum-shots to finish!