There's nothing funny about a guy taking two big dicks up his ass at the same time, but the opening scenes of this new video from Staxus had me giggling. Dominican guys Devon LeBron and Barrington Peart are sitting on the couch talking in Spanish when sweet young lamb Alexander Syden comes in. Alexander sits in a chair and tries getting their attention, but they continue their conversation. Finally, they smile and he moves over and sits between them on the sofa.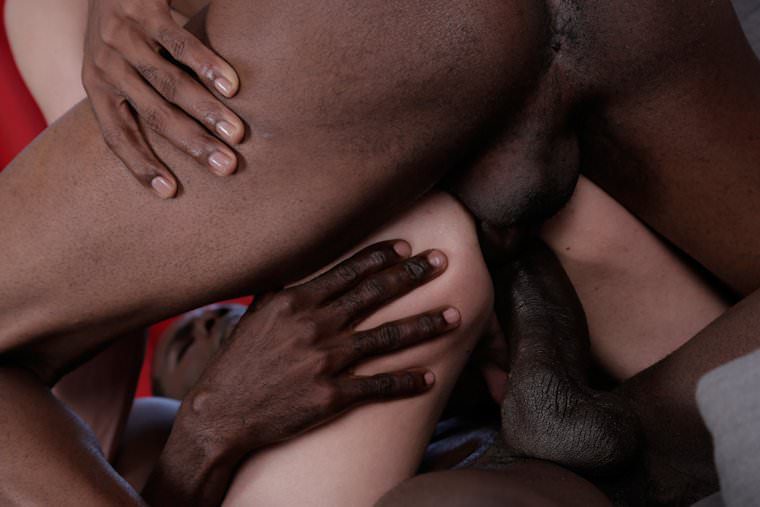 First funny bit, Alexander says, "Czech?" They look at him bewildered. Then he asks them if they want to play around. More confused looks. Finally, Alexander makes a hole with his fingers and fucks it with his index finger. The two black studs nod enthusiastically and they get started. He sucks both of their massive cocks; Barrington's is long and skinny and Devon's is big and fat.
Getting their two large dicks fully hard with his mouth, Alexander looks at both cocks and decides that long and skinny is going to be easier, so he sits on Barrington's pole. With his ass warmed up, he then stuffs Devon's super thick meat in his ass. After a few pumps, Devon wraps his arms around Alexander and pulls him back; Alexander looks wide eyed as Barrington kneels and aims his long hard-on at the boy's already over stuffed hole.
Barrington starts inching in his large cock and Alexander yelps, "Ouch!" Then there's a look of surprise on the bottom's face as the black dick slides right in. Another "ouch" and Barrington starts pumping. This usually doesn't work well with double anal penetration because someone's dick always ends up falling out, but both these black tops successfully thrust in and out of Alexander's ass while he moans and can't believe his ass is so accommodating. Then Alexander gets ambitious and gets his two top buddies lying ass to ass and sits on them both. Alexander blows his wad all over himself, their dicks slide out, and the blond's hole spasms and winks for the camera. It like his hole is saying, "Oww, oww, oww."
You don't fully appreciate how big Devon's thick meat is until you see him fisting it and unloading his balls all over the blond's face, although to his credit, he manages to send most of his massive cum load sailing into Alexander's mouth. Barrington's aim isn't quit as good and his first blast lands across the boy's lips, the second squirts Alexander in the eye, and the remaining splashes find their mark in the cocksucker's mouth. This is a must see for double penetration fans and this video's going in my spank bank for a while.