Kayden Gray and boyfriend Leo Marco have arrived at a guest house for a weekend stay in this Eurocreme video. They're having a bit of a spat at the moment, so when Kayden sees their French host showing a new lodger to his room, Kayden slips away to show Lyle Boyce how their do room service at this guest house.
Lyle is a cute-faced boy and Kayden is quite a bit taller and has no problems overpowering him on the couch. But with Kayden's huge 9-inch bone sticking in his face, Lyle happily opens his mouth and starts swallowing. When the blond guy isn't taking Kaden's monster meat fast or deep enough, the hung top grabs a fistful of hair and shows this cocksucker how to give head.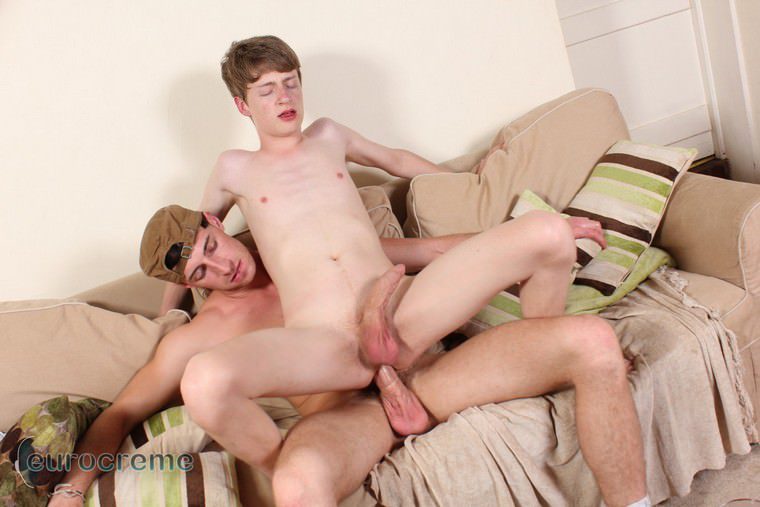 Handsome and ripped Kaden sits back on the couch and pulls tiny Lyle and his ass back onto his waiting hard-on. Lyle lowers himself gingerly onto this impressive cock and Kaden keeps urging him down until his bone is buried balls deep. It's a struggle, but with Kaden's hands firmly planted on his shoulders, Lyle doesn't have much choice – he has to take it all.
He slowly starts bouncing on the top's erection and his hole opens. Pain transforms to ecstasy and the blond bottom can't believe how good this giant cock feels sliding in and out of his butt. Kaden can feel Lyle's ass finally relax, so he stands the boy on his head and towers over him and gives him a deep plunge drilling. Good thing Lyle's at this summer cottage for a vacation, after this ass fucking he's going to need a rest.