Adrian Smallwood is a cute, Czech guy – quite adorable really – and he's sitting on his bed in this Staxus video listening to some music. He has dreams of becoming a singer and sings along to the music, and he's got quite a good voice. Zac Todd enters the bedroom and stands behind Adrian, listening to him sing. Zac joins Adrian on the bed and the guys start making out. After some kissing, Zac pulls out Adrian's cock and sucks it. Adrian lifts his legs in the air to slide off his underwear and shows us a nice pair of furry legs and big balls.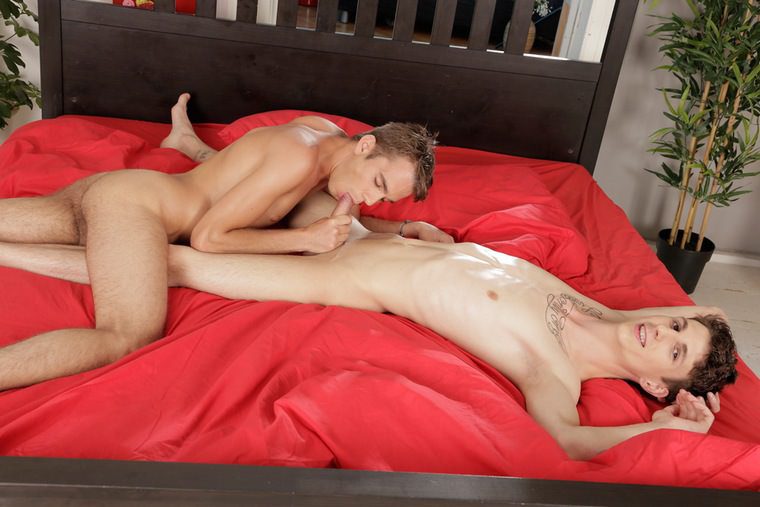 The boys strip out of the rest of their clothes; Zac is sporting a long cock with a plump, shiny nob. It's bigger than Adrian's dick, but his balls are just as big. The guys do some more kissing, rubbing their stiff cocks together, then Zac mounts Adrian and they do some 69 dick sucking.
Eventually Adrian's tongue finds its way to Zac's juicy butt hole and after it's good and wet, Adrian slides his raw dick inside. From behind, we get to see how furry Adrian really his – hairy thighs, ass crack, and balls. After fucking Zac for while, Adrian lies back so the bottom can ride his dick, he bounces up and down on Arian's thick cock while jerking his own and finally lets loose with a load of cum all over himself as Adrian continues to thrust and watch. Zac thanks Adrian for a good boning by sucking his buddy's meat and taking his cum load all over his tongue and lips.