I love skateboarders and Axel Ducharme is about as cute as they come. He's skilled at it, too, holding a camera he films his face as he's rolling down the street. Videoboys takes some footage of Axel showing off some of his skateboarding tricks, then they head back to Axel's apartment so he can show us some of his other tricks, like the big fat cock he has hiding in his baggy shorts.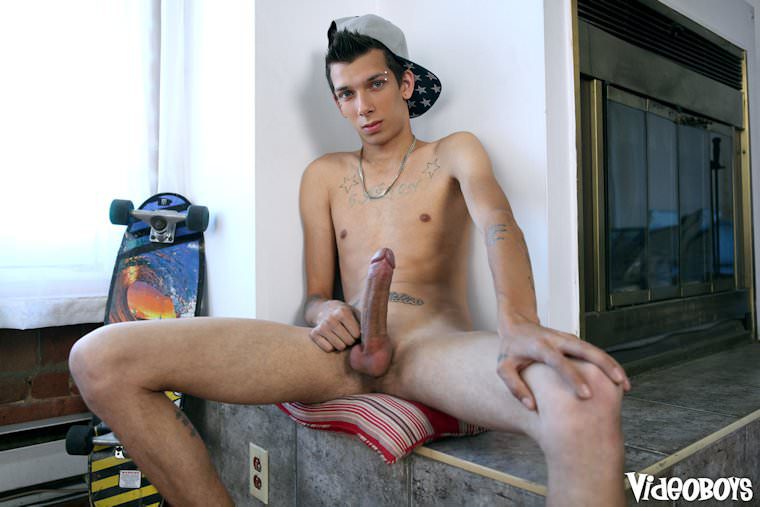 Axel gets right down to business, peeling out of his clothes. His body is lean and smooth, so very sexy. He sits back on the floor and hauls his already stiff dick out of his boxers, but I can't take my eyes off his plump lips. They'd be so perfect for a long, slow kissing session.
Axel slips off his boxers and while his thick boner is deliciously tempting, now I can't take my eyes off his hairy butt hole. Axel has his legs spread wide and his rosebud is right in my face while he's stroking his big dick. His cock is beautiful. It's uncut, so as he slides his foreskin down his thick shaft, his plump, pink cock head emerges, and it'll have you wishing you were on the floor with him, swallowing his big bone and playing with his furry hole. And don't forget those lips, you'd want to sneak a kiss every now and then.
When Axel is ready to unload, a huge wad of cum pumps out of his stiff cock, a big drop plops on this smooth pubic area, and the rest of this thick and sticky jizz load slides down his hard bone. So white, creamy, and delicious.