Gang bangs are fun to watch – more fun when you're a participant – but for a porn blogger, they're a bitch to write about. Who is sucking whose cock? Who is fucking whom? This latest 6-guy outdoor group bareback fuck scene is quite a lot of fun, but not for the reasons you might think. The guys over at Staxus got two new cameras recently: a helicopter and underwater camera. They used the helicopter cam in a scene I blogged about here called Czech Muscle Stud Rudy Bodlak Fucks Twink Ass and it was pretty hot swooping in on Brad Fitt and Rudy Bodlak as they sunned themselves outside an expensive villa.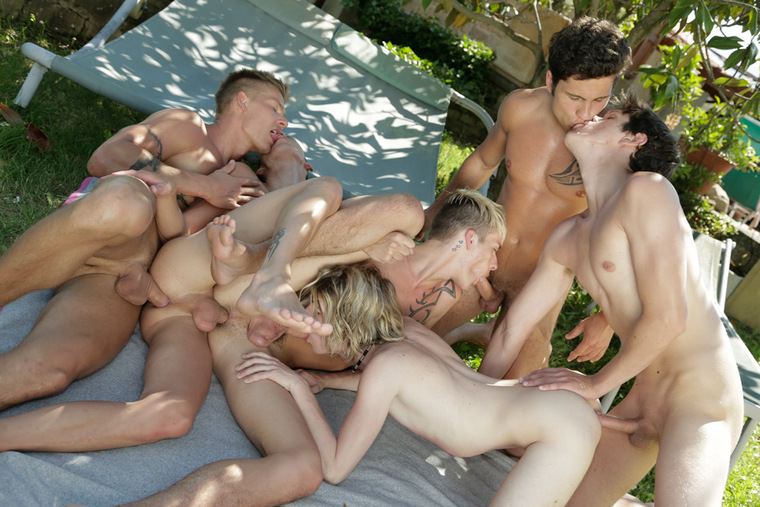 And this poolside gang bang uses the underwater camera. The scene opens from inside the swimming pool and we see sex toys dropping to the bottom of the pool. Then the six guys jump into the pool naked and start diving for the dildos and butt plugs. They swim over the camera so we get some nice shots of cocks and ass holes as the float over the camera. It's a playful opening. One guy tries stuff a dildo in another's ass and a third guy ruins it by swimming through the bottom's legs.
This outdoor orgy stars Rudy Bodlak, Brad Fitt, Damian Dickey, Tim Walker, Timmy Taylor and Connor Levi. Two of the guys (sorry, I don't know who, it's hard to match pictures with guys with wet hair!) are giving each other underwater blowjobs, then one sits his tight puckered hole on the other's hard-on – I have no idea how a guy does that without lube. But who cares? Watching these guys fucking underwater is pretty hot, and not something we see every day. They eventually move to a deck chair beside the other four who are already in full blowjob mode.
Eventually all six guys come together for an orgy of fucking. There's some very hot threeway train fucking and watching the close-ups got me pretty hard. They continue fucking in a stack with one guy sitting one another sitting on another. A couple of the other guys are fucking in a pair and the sixth is getting his dick sucked. Then Brad Fitt and Connor Levi sit down on the ground and offer themselves as cum rags. One after another, the other four guys start unloading their balls. The first cummer blows all over both boys' faces, then as Fitt sucks his cummy dick, the next one empties his balls on Connor's face. Brad Fitt jacks himself off while Rudy Bodlak drops a very controlled load of cum into Connor's mouth, and the fifth guy lets loose a wicked flying cumshot that blasts all over the two bottoms. And while cleaning up Rudy's spunk-covered dick, Connor finally is the last boy to shoot, jacking off all over his smooth belly.
Whew! That was a mouthful, pardon the pun, I could have just saved myself a lot of trouble by saying, "Head over to Staxus and watch this gang bang, it's really fucking hot."