Shower sex seems a lot hotter than it is in practice. I don't know about you, but I have a regular bathroom with the standard stand-in-the-tub shower set-up. Cramming two people in there always leaves someone out of the spray. But the shower in this new scene from Helix Studios is perfect, it's nice and big, almost the size of a small room, and could quite easily accommodate three guys, let alone two.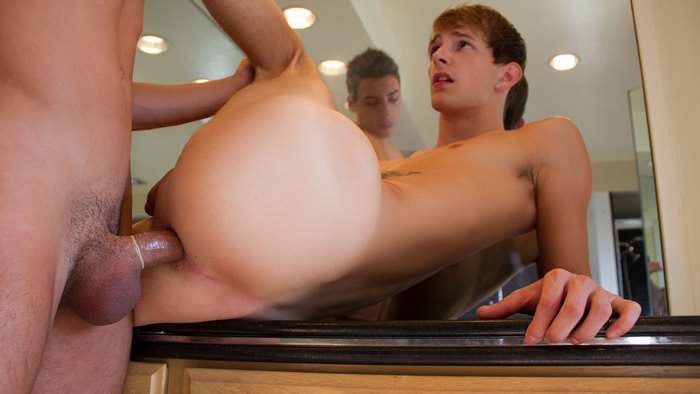 Jasper Robinson is taking a long, hot shower and his big, soft cock is dangling heavily and dripping with water. His low-hanging balls are completely relaxed and swaying as Jasper soaps himself. Roman Daniels invites himself into the shower and the guys start to play and tease each other under the spray. Roman stands behind Jasper and reaches around with his soapy hand, stroking his buddy's dick and getting it hard, then after rinsing away the lather, Roman shuts off the shower and swallows Jasper's growing erection – nothing worse than trying to suck dick with the shower spraying your face.
The guys step out of the shower and Jasper leans against the doorway and takes Roman's stiff dick up his ass. But for me the hottest part of this scene has Jasper lying back on the bathroom vanity. There's two walls of mirrors that let me watching Roman's cock pumping Jasper's ass from one angle, but seeing his tight little butt thrusting in another. Even Jasper takes a look in the mirrors and watches his buddy working his ass. And if you like group sex, with all those reflections to watch, sometimes it looks like there are four couples fucking in the bathroom – very hot!