Scotty Clarke, Matthew Keading and Nicholas Reed are off on a road trip when their car breaks down in the middle of Bumfuck Nowhere, and that's the name of this new video from Helix Studios. They stumble across a place that rents cabins, which happens to be a short walk from where Connor Maguire and Felix Warner have set up camp. These three twinks walk by Connor's campsite pulling their luggage on wheels behind them. Checking out the young meat walking by, Connor and Felix clink the beer bottles and give each other that "we're going to get laid" look.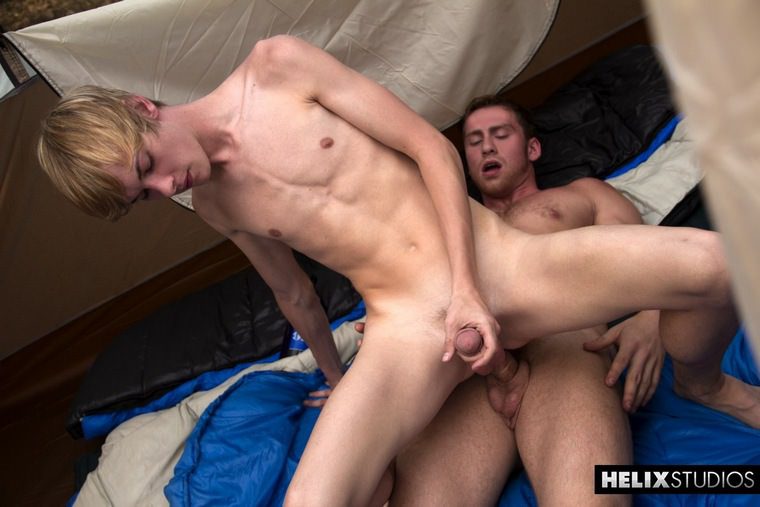 It's not long before blond cutie Scotty comes by the camp site and finds Connor sitting by himself. And in one of the worst porn lines ever Scotty says, "I like your tent." And Connor asks, "Wanna check it out?" Oh well, this movie is about Scotty getting his tight little ass plowed, it's not about the story. Connor Maguire has a big cock and Scotty has a cute, tiny butt, so this one's going to be fun to watch.
My absolute favourite part of this scene has Scotty down on all fours in the tent, that hot ass of his sticking up in the air. Connor stands over him, squats, and starts plunge fucking Scotty's boy butt. It's a perfect view giving us a really good look at Connors strong, muscular body and his firm, powerful ass thrusting into Scotty's hole. Scotty takes over for a bit and rides Connor's hard-on in a reverse cowboy, then the redhead top takes over and puts Scotty's legs on his shoulders and drills the boy mercilessly. I've never been a huge fan of camping, but after watching this video and all the ways you can fuck in a tent, I think I might have to rethink this for next summer.