So the third installment of Scandal at Helix Academy is out and things are getting nasty: Doug Acre is a new teacher at Helix Academy; Ryker Madison is a student but also Doug's secret off-campus lover; boyfriends Casey Tanner and Evan Parker catch professor and student having a quickie in the classroom and plot a blackmail strategy and reveal it to Ryker. That's what you've missed so far.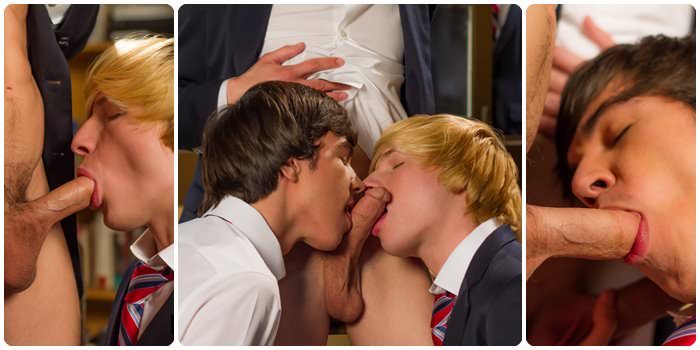 But Evan Parker is no angel. While his boyfriend heads off to a class, Evan meets up with Jessie Montgomery and Zayne Donovan in an empty classroom. While the two schoolboys are on their knees and feasting on Evan's cock, Ryker appears in the window. He stays and watches the whole sweaty threeway. Zayne lies across a desk and sucks Jessie's dick while Evan strips naked and drills the lad's ass, then Jessie takes his turn on Zayne's ass and gets his own fucked by Evan in a grunting daisy chain.
Zayne is one of the newest guys over at Helix and this is really his first scene, although he has filmed a Real Cam installment with Jacob Dixon. But Zayne takes two hard dicks while lying on his desk and shows that he's going to fit in just fine. As Evan and Jessie splash their jizz all over this newcomer, they're still unaware that Ryker has seen the whole thing. Ryker thinks he's got an ace in his pocket to use against Evan, but things are about to take a nasty new twist. If you can't wait to find out what it is, you can head over to Helix Studios and watch the fourth episode.