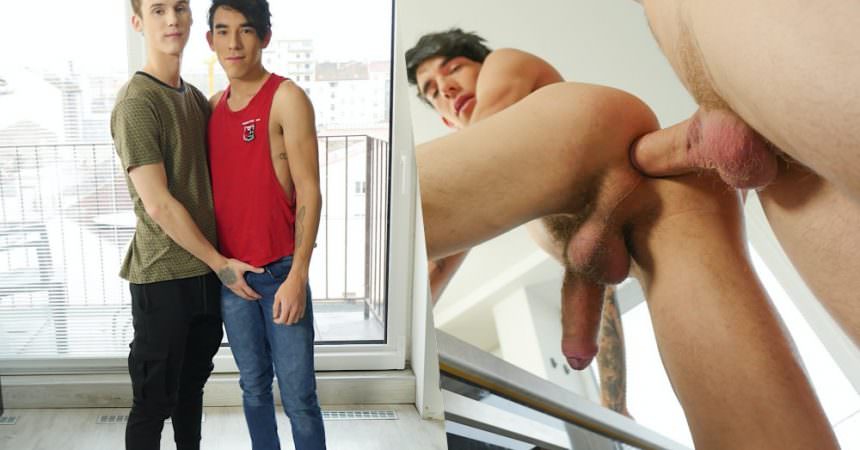 Roman Takes Kaleb's Big Bare Boner
CLICK HERE TO VISIT THE BRAND NEW ENTICING MALES FORUM - THE BEST PLACE FOR CELEB TWINKS, INFLUENCER TWINKS AND PORN TWINKS! SIGNUP FOR A FREE ACCOUNT TODAY!
Roman heads into the kitchen and spots a cute boy, Kaleb, sat in there. He realises that it's his sister's new boyfriend, but can't resist telling Kaleb how cute he is. Kaleb gets a big boner in his sweatpants looking at Roman, and when Roman sees the massive bulge he can't resist reaching out to touch it. Roman asks Kaleb if he can see it, and is happily shocked when he sees that massive thick cock. Roman gets on shine knees and goes down on the big uncut dick, sucking as much of it as he can fit into his mouth. Soon both boys are fully naked, and Kaleb blows Roman's stiff dick in return.
He then bends the boy's legs upwards so he can eat out Roman's ass before sliding his big bare bone deep into it. Roman moans in pleasure as he gets drilled on his back and then slammed from behind as Kaleb pumps him full with his huge cock. The twink then goes for a ride on Kaleb's monster meat, and pulls off just in time for Kaleb to unload onto the floor. Roman aims his dick at Kaleb and jerks off until he blasts his big load all over the sexy boy, leaving his torso coated in cum.
Dick Detective's verdict: Great! Kaleb's big dick proves to be the star of the scene again, and looks even bigger in the close-up shots.