It seems as if all of the performers at Helix Studios are in relationships with each other. This is the fourth or fifth installment in the Real Cam series, which has real-life lovers pulling out their cams and filming one of their sex sessions. And this one features Jessie Montgomery and Jamie Sanders, who I didn't realize were boyfriends.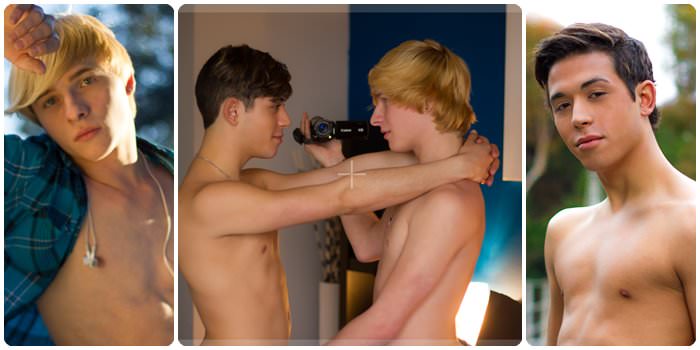 I like the Real Cam series because it lets us get a little more intimate with the guys and their love making. But I equally enjoy the pre-sex interviews where the guys talk about how they met or tell us about their relationships. Jessie Montgomery and Jamie Sanders spend a lot of time talking about their jealousy issues and how it's difficult to watch the other's Helix scenes. I was a little surprised because being a porn performer is just a job, it doesn't mean anything, right? Hell, even if a performer looks like they're having a mind-blowing good time doesn't mean that they want to trade in their boyfriend.
Eventually Jessie and Jamie shut up and get down to fucking and I love how playful they are; the hand-held cams just adds another whole layer of fun and gives us some hot close-ups. And while Jamie says that Jessie tops more in their real bedroom, they took turns in this video. And Jessie even wears his glasses, which never happens in a real Helix scene. You can head over there and watch the preview and see your favourite performer with his boyfriend, some of these couplings are a little surprising.