Jacob Dixon and Luke Allen are the third real-life couple to be featured in Helix Studios' Real Cam series. The site gives these couples a camera and invites them to film one of their own hot fuck sessions. It's been a pretty hot experiment, one of my favorite regular features on the site, I hope they continue. They're intimate and personal and I love watching how these real-life couples get off together.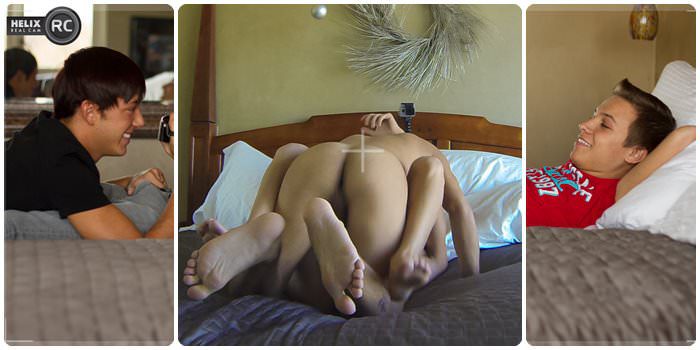 I had no idea that Jacob and Luke were lovers. I have to say that I'm envious of Luke because Jacob is one of my favorite guys over at Helix. He's very good looking and he's sporting a long, 9-inch cock, and the boy knows how to give a slow and passionate fuck – he's definitely not one of those one-speed fuckers who only jack hammers his bottom's ass.
This video, like the others, opens with some private time with the guys talking about how they met and sharing bits of their relationship with us. Then they get down to some passionate making out. The POV filming is hot, giving us some sexy close-up action. But the highlight of this video was finding out that Jacob Dixon does actually bottom. He's filmed 14 videos with Helix Studios and he's topped in all but one, I believe. But Jacob and Luke take turns doing the fucking and holding the camera and filming. I wonder how long it'll be before we get to see Jacob Dixon taking another cock up his butt.