I have posted Jasper Robinson quite a bit here. He's a very cute twink,  and while he's versatile, I do seem to enjoy watching him getting fucked. Don't get me wrong, he's got a beautiful, big dick and I love watching it bringing joy to another guy's hole. But Jasper really does love getting fucked, it shows in every moan, groan, sigh, and facial expression.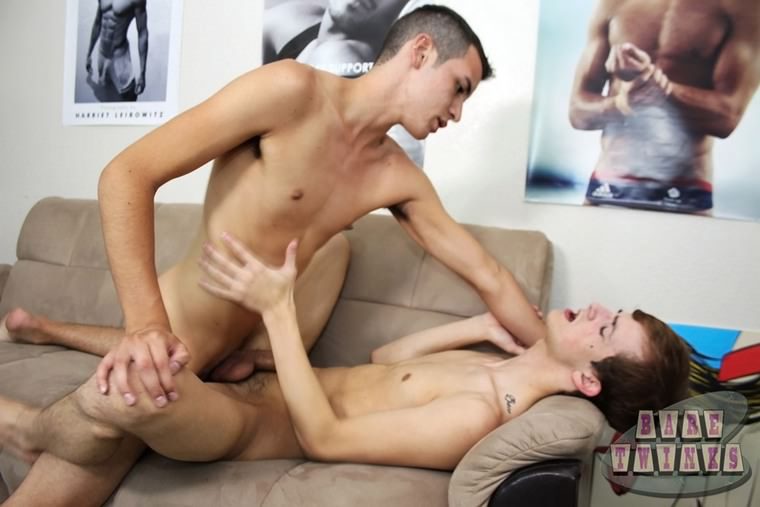 And he's got reason to be extra turned on in this new scene from Bare Twinks. He's playing with Aaron Stang's 9-inch cock. What a dick! But before we see their cocks, these two boys get horny with a long make-out session with lots of kissing. And you can hear them smacking their lips together – they love snogging. Jasper eventually pulls out Aaron's erection, holds it in his hand, and sucks it lovingly with long, slow, deep plunges.
Jasper lies back on the sofa and Aaron crawls on top and slides his considerable bone in his bottom's ass. And Jasper loves it. I don't know when I last saw such passionate fucking. A lot of young guys tend to push it in and start pistoning like they're running a race, but not Aaron. He fucks with slow, purposeful strokes; he wants to feel every inch of his meat sliding in and back out of Jasper's tight hole. After driving Jasper crazy with his slow fucking technique, Aaron does ramp it up for a bit of hard ass drilling, but he returns to his slow and steady pumping, which is what gets his balls churning up a big load of jizz. And when he's had enough of Jasper's hole, he hoses it down with his considerable load of spunk.