Xander Hollis and Jaxon Radoc are in their dorm room in this new Staxus video. Each one in his pajamas; Jaxon is a hot Aussie and he's on the bottom bunk looking at porn on his cell phone and stroking his hard 8-inch cock, Xander is a cute Czech guy and he's working on his laptop on the top bunk. Jaxon's hard stroking gets the beds rocking and when Xander looks over to see what's going on, Jaxon says, "Come help me." Xander ignores him so Jaxon starts kicking the top mattress with his feet. "Come … help … me," he orders.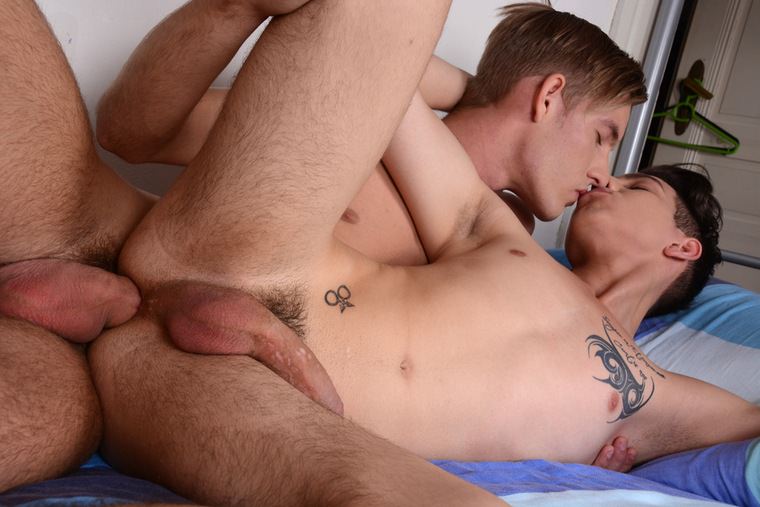 Xander heads down to the bottom bunk and grabs Jaxon's huge hard-on, which the blond has pulled through the fly in his pajamas. I love watching Xander sucking dick, he's very good at it. He holds Jaxon's big cock and runs his tongue up the shaft, then he swallows it and pumps his wet mouth on it. He licks it, kisses Jaxon's plump cock head, rubs his balls, sucks and strokes it, this boy is all over this cock like dick sucking comes with an expiry date and he's overdue.
The guys lie back and kiss, each stroking their hard-ons sticking through their pajamas. Jaxon gives Xander some head , but it's really just a token blowjob to get the bottom horny for as ass fucking. Jaxon strips naked and Xander pulls off his pajama bottoms, then Jaxon lubes his huge meat and stuffs it up Xanders tight little ass. Man, that's a lot of dick for such a tight hole. And as always in gay porn, if there's a ladder in the room the guys are going to use it. Xander stands on the floor and hikes his foot on the ladder to his bunk so Jaxon can really screw him hard. Then with both feet on the floor and rocking on Jaxon's meat, Xander blows his creamy load all over the floor. Jaxon pushes the bottom to his knees and using his lips as the bullseye for his messy load of spunk. Now Xander can carry on with his homework.