Uncut cocks are interesting things, they come in such a variety of styles, all cocks do really, but I find that uncircumcised penises can vary pretty wildly. Take Oscar Roberts from Hard Brit Lads. He's a 21-year-old, athletic guy and he's doing his first solo jack-off video for the site. When erect, his cock is long and he's got loads of foreskin that easily slides up and down his shaft. Peeling it back and forth across his cap, he reveals a plump but misshaped and lopsided cock head.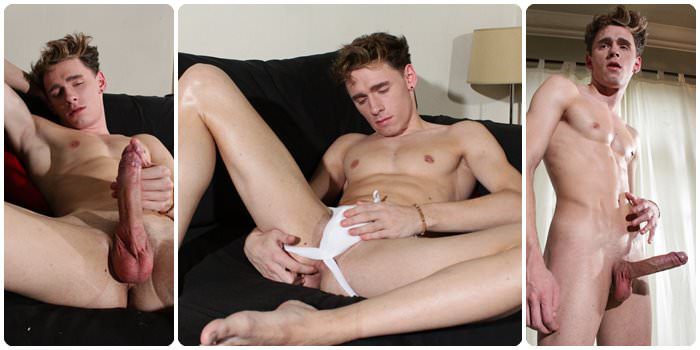 I always prefer an uncut cock where a guy can easily manipulate his foreskin all over his dick, it drives me wild. A lot of guys have really tight hoods that don't budge and it seems to make their cocks look really angry, and sometimes a little sore. But Oscar has a nice one. He starts off his session wearing a jockstrap that laces up in the front and it's very sexy.
And Oscar is a slow jacker who really takes his time, edging his cock and fingering his hole. He said in his interview that he preferred to bottom, so I wasn't surprised when his fingers quickly started circling his smooth butt hole. He stands and gives us some hands-free play making his cock dance in the air while he plays with his nipples. Then he's lies down on the cock again for the finish. He pumps out a thick load of white cum all over his sweaty abs and makes sure that he squeezes out every drop of spunk before calling it a day.