Evan Parker is relaxing on the couch and reading his book when his boyfriend, Sasha Peterson, arrives home horny and raring for a romp. In this new video called "Put the Book Down" from Helix Studios, Sasha doesn't even ask, he just climbs on top of his boyfriend and kisses him. Sasha pulls down Evan's jeans and gives him head right there on the sofa. When Evan slides his hand down the back of the blond boy's jeans, Sasha squirms and moans – he's definitely in the mood for a fuck.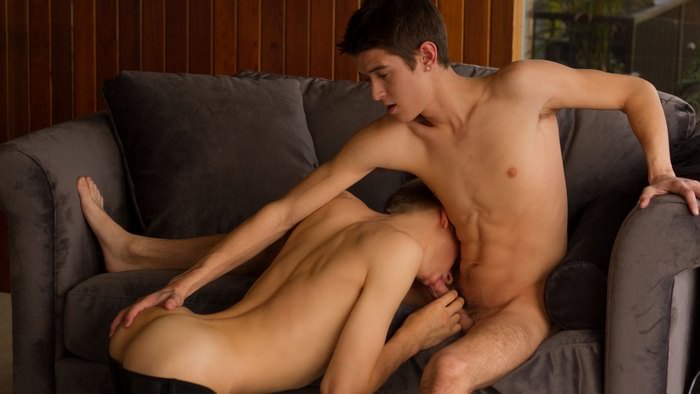 The thing that got me really hot in this scene was the mirrors. Sex in front of mirrors adds a whole extra layer of horniness. Sasha leans against and full-length mirror and Evan drills his ass. And the two boys only need to look in the mirror to see how much the other is enjoying this butt fucking. Evan watches his dick sliding into Sasha's hole, then watches the bottom's face in the mirror and teases his fuck hole some more.
They head for the bed and Sasha lies back and plants his feet on Evan's shoulders. And the camera moves between Evan's hard dick plunging his boyfriend's ass and the mirror view of Parker's butt pumping away. Do these horny boys head back to the mirror to blast it with their juicy cum loads or do they spunk all over each other? I don't want to ruin all the fun, so head over to Helix Studios and find out for yourself.